Electric smokers are mostly made for residential use which means they are a perfect fit for you, your family, and maybe a friend or two.
At A Glance:

Our Top 3 Portable Electric Smokers
There are different sizes of electric smokers and if you are a recreational cook who loves to smoke meat, hassle-free, for only a small number of people then I suggest that you take a look at my small electric smoker's reviews.
With those reviews, I will show you the best electric smoker that is small and portable, but before I start with the review, let's talk about small electric smokers in general.
Then you can decide which is the best smoker for your needs because you will soon find out there are many types of smokers. As well as electric smokers there is also a pellet smoker, a charcoal smoker, and gas smokers to name a few.
So please review our buying guide to see if you would prefer an electric smoker. Listed below is a variety of prices, offering a great cheap electric smoker option ranging to one that is a bit more costly.
Who knows, maybe you will fall in love with using your small electric smoker and will want to transition to a larger one that can feed an entire party!
What Are Small Electric Smokers?

The small electric smoker is known as the family smoker, which they are simple to use and has a capacity that can feed your entire family.
Most smokers that size are meant to feed about 5 or 6 people, which means that they aren't enough if you plan to prepare a party for your entire family and friends.
Every vertical electric smoker that is below 30″ of height is considered a small electric smoker.
Those smokers can have a capacity of around 500 square inches and, as I have already said, they are made for a small number of people only.
The shape of the smoker and the number and positions of cooking racks can affect the size of the cooking space in the smoker.
If you have more smoking racks you can smoke a larger amount of food.
Small electric smokers are not too heavy which means that you can carry them around so you can call it a portable electric smoker as well.
Due to that, most of them have comfortable, heat-resistant, side handles on the side of the smoker for ease of travel.
There are models with wheels but it is more common to find a small electric smoker without wheels, but with handles.
The design of the small electric smoker doesn't differentiate from other sizes.
They can be with and without the stand, with and without the window on the doors and they can come in different colors.
What I like is the fact that almost every electric smoker brand has a small and medium-size option, while large electric smokers are less common.
Why Small Electric Smokers?
If you have a question in mind why opt for a small electric smoker.
Well, the list of reasons can go on for a while. For instance, some people are party animals and want to have a little gathering every weekend.
Here these small electric smokers play the role. Then the portability and versatility are the key aspects to why choose small smokers.
The only requirement will be to find a power outlet and that's pretty much it.
Then small smokers are also a great option for camping trips.
Rather than having to carry fuel, you can cut some slack. Further, these mini ones save you a lot.
From money to space, these are the most reliable and friendly options out there.
One of the major reasons is the ease of usability offered to these smokers.
Unlike traditional smokers, these are pretty facile to use. Yet offers similar features to a conventional smoker.
Despite the small size, these have a temp control feature. This makes the small electric smokers even more reliable ones.
Best
Small Electric Smokers
On The Market:
[amazon_table]
Smokehouse Products Little Chief Front Load...
Front loading electric smoker comes with recipe/instruction booklet...
Consistent low temperature setting using a 120V, 250W heating element...
Easy-slide chrome-plated grills; maximum capacity flavor fuel pan;...
No products found.
Smokin-It Model #1 Electric Smoker
Up to 22 lbs. of meat capacity per load
400 watt heating element, 8 amps 120 volt single phase
3" Diameter rubber casters and 3 removable shelves included with space...
[/amazon_table]
As I have already mentioned, "the small" is one of the most popular sizes of the smoker options, which means that there are many small electric smokers on the market.
So, to help you choose the best small electric smoker I have made a list of the best small electric smokers made by a well-known brand and from good quality materials, which means that they are durable and long-lasting, with proper care and maintenance.
When you finish reading my list of the small electric smoker, you will know which one is your right choice:
This small electric smoker is the smallest smoker made by Masterbuilt, which is a well-known brand in the smoking food business.
It is as simple as it can be, which means it doesn't have digital controls, no Bluetooth, or wifi.
This heavy-duty smoker is our personal top pick and has 548 square inches of cooking area and 3 cooking racks in the smoker.
It is very easy to use, all you have to do is plug it in and set the temperature.
Now, don't get confused; this may be a simple analog smoker but it has a 1500-watt heating element which means it can smoke the most stubborn pieces of meat without any problem.
The temperature gauge is located on the doors and it is easy to read the temperature range, but I would recommend you get a meat probe or meat thermometer.
This is not a downside of this particular Masterbuilt small electric smoker, but it is a common downside of all analog electric smokers.
There is a removable water bowl to add moisture and a smoky flavor.
The wood chip tray slides out for easy ash clean-up. There also is a front access grease tray to catch the drippings in the drip pan and can remove easily.
If you are looking for an analog electric smoker which can smoke delicious meals for your family,
I suggest you read the whole review of this small electric smoker made by Masterbuilt so you can see if this smoker is the one you are looking for.
PROS
This product comes with digital controls that allow the users to have convenience.
One of the most compact options on the list.
This product features a Patented  Side wood Chip loading System that allows you to quickly load Chips.
CONS
The Temperature gauge is located on the doors, making it difficult to use.
Little Chief is one of those small electric smokers that hasn't changed since the year it was first produced. And that year, my friends, was almost 50 years ago.
This double-wall small electric smoker has the capacity to store 25 pounds of food on 4 cooking grates in the smoker. That is more than enough to feed your entire family, and with leftovers.
The 250-watt heating element is great for slow smoking and smoking smaller meat, but it has a problem with smoking large pieces of meat providing delicious smokey flavor every time.
The compact electric smoker can't smoke large meat like pork butt which means you have to finish that in the oven.
I am not sure if it is a problem or people behind the Little Chief planned to make it more convenient for slow smoking and cold smoking cheese, fish, or jerky.
I like the fact that you can choose the top load or the front load with this small electric smoker, it means you can adjust the smoker to you.
This small electric smoker will provide you great temperature control and it is a great slow smoking device.
Due to that, I would recommend this smoker to people who are interested more in slow smoking than in regular hot smoking, especially large pieces of meat.
So, if you have found yourself in this description, hop on the Little Chief full review and find out more about this compact electric smoker.
PROS
One of the most Compact options on the list.
Despite its small size, it can hold up a lot of food.
A great option for Slow smoking.
CONS
The heating element of this product is not a good option for smoking large pieces of meat.
This compact electric digital smoker is a very special smoker because it has SmartChef technology which means you can connect your smartphone to your smoker for ease of use.
That is innovation and there aren't that many small electric smokers on the market with that feature.
This circular smoker has 2 smoker racks and one cooking basket which means you can put 16-lbs turkey for Thanksgiving in the smoker.
The heating element is spread all over the smoker so your meat will be evenly smoked no matter where it is located in the smoker.
You can use a special application to link your smartphone to your smoker and once you do that, you can use your phone as the remote control to easily adjust the temperature settings for the smoker or to be notified when your food is done cooking.
You can set the internal temperature and the timer and during smoking, you can check the temperature of the chamber, the temperature of the meat, and how much time it has left.
The great thing about this application is the notification system.
The application will notify you how smoking is going so you don't have to worry you will forget about it. Also, you can pick the recipe based on the type of meat you are smoking right in the application.
If you are a gadget freak and you love this kind of thing then I am sure you will love this compact electric smoker and its portability
. But, there is a problem with linking. The iPhone users are more satisfied with the applications while the Android users have experienced some glitches.
If you love the fact that you can have a Smart electric smoker which you can control with your smartphone, I suggest you read the whole Char-Broil with SmartChef technology review in my Char-Broil electric smoker review.
You can also check out the Char-Broil deluxe digital electric smoker if you want more bells and whistles.
PROS
Features a fancy Design.
Comes with Smart Features.
Distributes smoke in a good manner.
CONS
The android app has some problems with the app.
Smokin-it has 3 models of electric smokers which look the same and their only difference is their size.
As you can imagine, I want to share with you their smallest model – a small electric smoker also known as Model #1.
Their compact electric smoker can fit 22 pounds of meat inside, spread on 3 adjustable racks.
The smoker features 18-gauge stainless steel construction so you can assume that its quality and durability are very good.
The 400-watt heating element is more than enough for the size and shape of this smoker so you and your family will be able to enjoy your smoked food.
The electric smoker is one of those smokers that comes with wheels and that is no because it is too heavy, but because every Smokin-it model has wheels.
So, if you are looking for a small electric smoker that is easy to transport, check this one out, it might be the one for you.
If you believe I am right regarding the last sentence, visit Smokin-it full post and read more about Model #1.
PROS
This happens to be the smallest smoker on the list.
One of the most durable options on the list.
Comes with integrated wheels for maximum portability.
CONS
This smoker needs to be cleaned frequently.
Meco produces small electric smokers which means it is hard for me to pick only one.
I suggest you take a look at my Meco electric smokers' full post and pick the one that might suit you best.
So, let's get back to my pick of Meco small electric smokers.
This smoker is stainless steel smoker which looks great and has a very good smoking performance.
The reason why I have chosen this model is that it is simple to use, big enough for one family, and made from good quality materials.
This particular Meco small electric smoker has 351 square inches of cooking space and 2 cooking grids.
As you can see it is smaller than the rest of the smokers but that doesn't mean it is not enough for you and your family.
The 1500-watt heating element is more than enough to smoke all kinds of food and the reason why it is so strong is that this smoker can also be a water smoker.
That means a large amount of water during smoking so that the meat stays tender and juicy.
Due to the water pan, you can use the desired liquid such as beer or a flavored juice to moisturize your meat, all at the same time using wood pellets to add the smoky flavor,
such as hickory or applewood, making smoking meat an exciting and flavorful experimental process.
If you are interested to know more about this small electric smoker, I suggest you read my whole review in the post about Meco electric smokers.
PROS
Made from stainless steel, meaning that this product is durable.
Offers high Performance.
This product is very simple to use.
CONS
Fitting the lid inside the base section is hard.

Masterbuilt is a brand that produces big and quality smokers so this portable electric smoker is an exception.
What makes this smoker so interesting are the foldable legs that elevate the entire smoker from the ground so you can put it on an uneven surface while you are camping or spending a weekend in the cabin.
This portable electric smoker has a 1400-watt heating element and 280 square inches of smoking space which still provides enough space for your cooker to fit a brisket.
The smoker is analog which is logical because you don't need technology when you are camping, you will stay near it all the time.
So just be sure to check the meat temperature once done cooking to know if it is the doneness that you prefer.
When you buy a Masterbuilt portable electric smoker you will get a bag so you can easily transport it from your car to the camping site and it is one of the best portable smokers on the market so I would recommend it for people who love going on a trip.
If you are interested to see more information about this small portable electric smoker read its full review in my post about Masterbuilt electric smokers.
A digital electric smoker is easy to use as well if you want to go that route.
They typically have a digital control panel with a led display that you can easily adjust the thermostat to the desired temperature and it will set your cooking time, kind of like a set it and forget it mode.
A digital smoker has a very similar cooking process as the electric smokers stated above.
PROS
Comes with Foldable Legs.
Features a powerful heating element.
One of the most portable options on the list.
CONS
The smoker struggles when trying to cook over 250 degrees.
LANDMANN Small Electric Smoker is one of the ideal recommendations that you can go for. It carries 3 in 1 combination tray and that is the unique selling trait of this product.
Furthermore, this product comes with a non-insulated kind of chamber tray. It is 26 inches and remains to be ideal to use.
This electric smoker is highly compact and small in size. If you want to BBQ like a pro, then this is a suitable recommendation for you.
It helps you make and prepare delicious smoked food at your end. If you have got limited space in your kitchen, then place and set up this smoker as soon as possible.
We have seen that this smoker is the name of high efficiency. It is featured with this 3-In-One Combo Tray where you can place and keep your wood chip box and water pan as well as grease pan.
This product is included with a temperature gauge and offers you optimum temperature control settings. Moreover, this smoker has 3 chrome plated and steel-made cooking grates in it.
It has an adjustable door latch and comes with a viewing window as well. The best part of this product is that it infused with a rear damper port.
This smoker has a total of 457.86 square inches cooking surface and helps you cook your ribs and pies in a conventional manner.
If you want to adjust the height of this smoker, then you can do that for sure.
What We Like:
It has a 3-in-1 combination tray.

It carries a Non-insulated cooking chamber.

It is easy to use.
The next suggestion that you can try out is this BRADLEY SMOKER Small Electric Smoker.
It is surrounded by a polished stainless steel interior and that is the highly attractive quality of this product.
In addition, this smoker is made with the help of powder epoxy steel construction and the plus point is that its clean-up job is simple and quick to follow.
This one is a Bradley digital 4 rack smoker and marked to be an ideal and highly durable outdoor barbecue smoker.
It allows you experience full digital control settings for adjusting your temperature, time, as well as smoke.
With the help of this small electric smoker, you can cook your meat and chicken and all kinds of meat and fish.
For preparing gourmet level foods and meals, this is the next level smoker type that you can go for.
Furthermore, its dimensions are 17 by 14 by 31 inches and too 24 inches wide.
It infuses a delicious scale and highly appetizing flavors in your dishes.
If you want to benefit from exceptional and high-end electric smokers, then it is advised to the readers to try out this brand.
Lastly, it delivers versatile applications whenever you feel like preparing smoked BBQ anytime for your family gathering times.
What We Like:
It is made by using the highest quality material.

It shows epoxy steel construction.

It has got a stainless steel interior.
If you are planning to get this ROYAL GOURMET Small Electric Smoker, then do so right now! Most importantly, this smoker ensures a spacious and maximum cooking surface.
It is installed with 3 chrome-coated smoking racks and needs 1500-watt heating power to run and operate itself.
The highlighting quality of this item is that it has a removable digital controller and is included with the element of the integrated thermometer.
There are other multi-functional uses that are offered by this product. You can give this item a try as it satisfies a large number of smoked food cooking needs of yours.
As you can see that this smoker has a latch system so that your purchased smoker can keep on showing excellent seal performance.
Your chosen smoker will not ever show scalding because there is a cool touch spring door handle attached with this smoker.
It retains heat on ideal and professional notes and is packed with double-wall construction.
So, are you ready to try out this smoker that is built to last, you should be!
You will get 3 year warranty time on buying this smoker and in this way, you can pour a lot of your confidence into this respective product.
It shows the most durable framework and injected with a porcelain enamel water bowl.
Along with that, this smoker has 16″ solid steel cooking grates and comes in the form of a vertical barrel design.
You can maintain and retain a consistent temperature on it and allows minimal adjustments at the same time.
It has a vertically hinged door and gives you a user-friendly experience.
What We Like:
It shows versatile application.

It gives Good seal performance.

It is convenient to transport.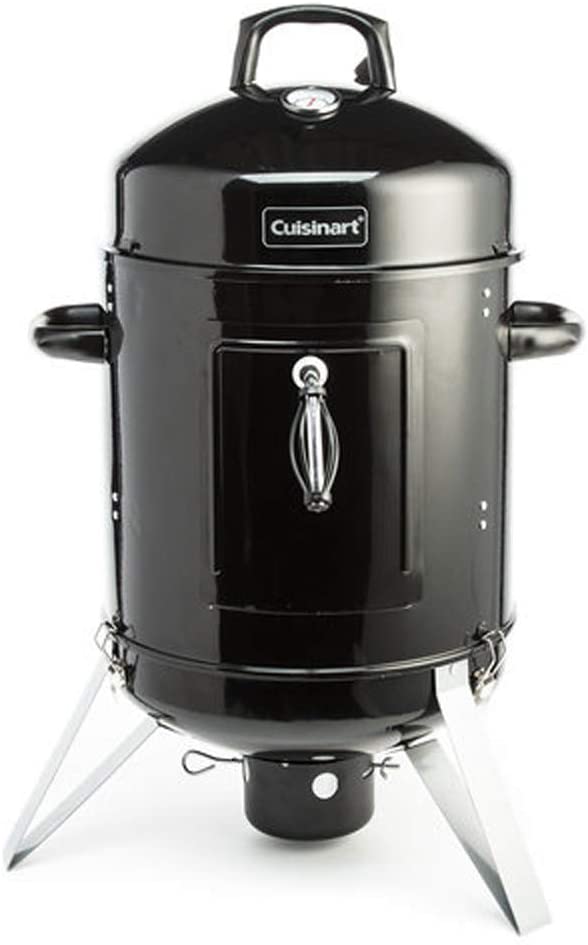 CUISINART Small Electric Smoker can be bought by you as it has got lots of love and praise. It carries a vertically hinged door in it.
Furthermore, this smoker is covered by two 16″ stainless steel racks and gives the user with 402 square inches of cooking space.
Moreover, it is featured with two air vents.
With the help of these air vents, you can control and adjust the amount of heat and also smoke.
You can see that this reviewed smoker is composed of two tiers of steel-made smoking racks.
You can stack them right inside the smoking chamber yours.
It gives you enough room so that you can smoke all fish and meat types and also your vegetables and whole chicken stuff.
We can say that for your outdoor grill kitchen, this is an ideal and one of the top recommendations for you.
It is quite easy to use and does not give a technically tough time to the cook.
The induction of vertical barrel design will allow this electric smoker to distribute and spread the heat evenly and completely throughout the cooking chamber.
So, what are you planning in your head right now? You can make this wise decision and have this small electric smoker in your kitchen now.
It is manufactured by a trusted brand and loved by many chefs out there.
Even more, it is portable enough and you can take it just everywhere.
To all professional chefs and cooks out there and to all of the grilling enthusiasts, we are hopeful that you are going to appreciate the quality and durability of this smoker.
What We Like:
It gives 402 square inches of cooking space.

It has top and bottom vents.

It runs on a dual air vent system.
Best
Small Electric Smokers
– Buyer's Guide: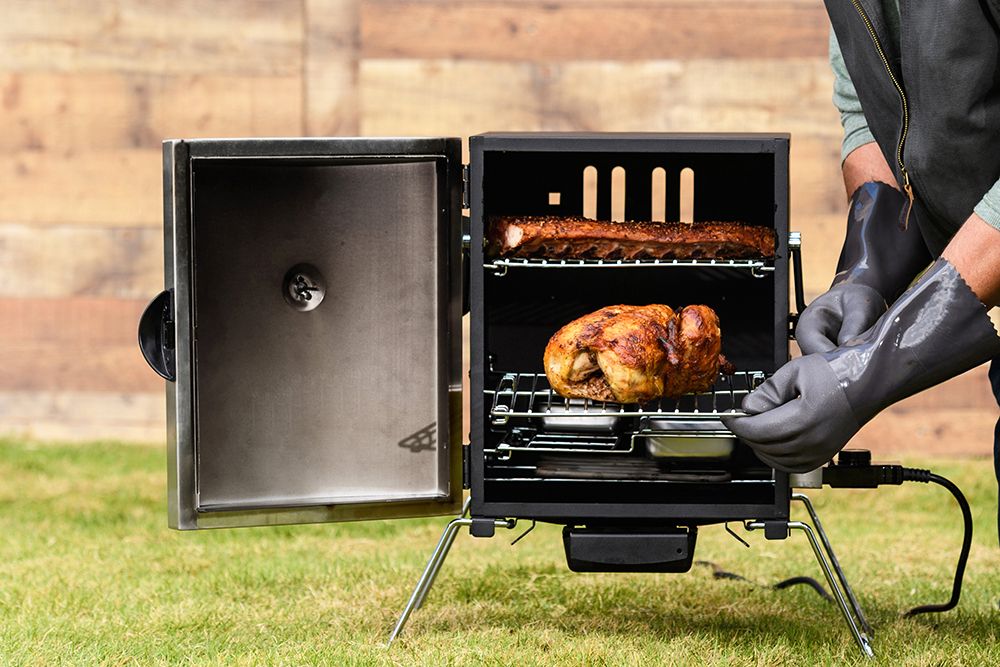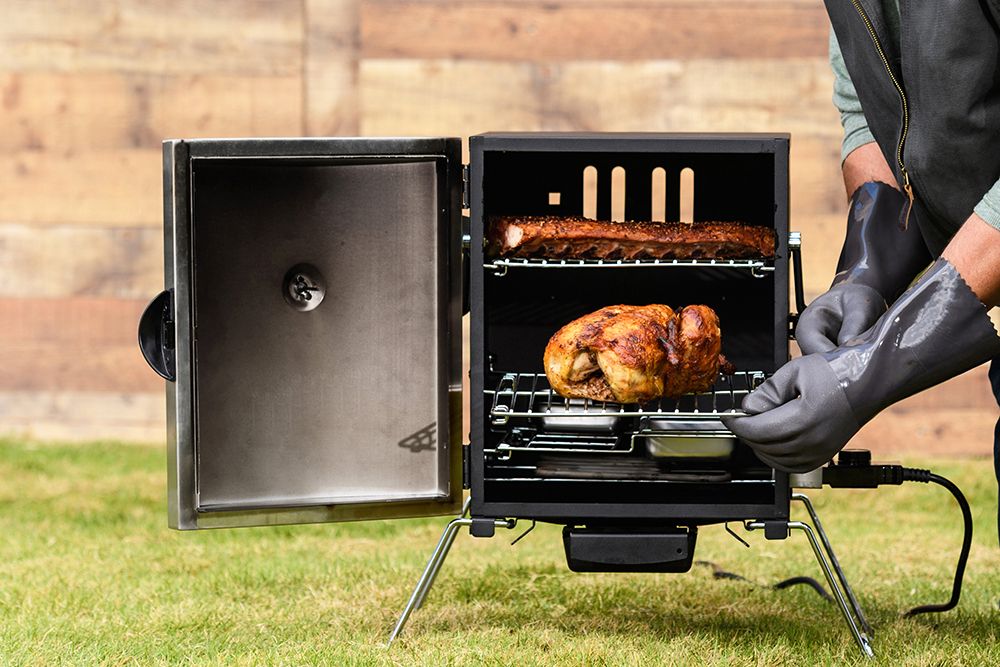 Total Capacity:
When it comes to choosing a small electric smokers, the total capacity that is provided for cooking is one of the most important factors that you should consider.
Capacity is one of those aspects that will make a huge impact at the end of the day.
If you have an electric smoker that comes with too many astonishing and amazing features but doesn't have all the capacity to store the meat and the food you want to cook, it's not going to be a very ideal product.
If you are going to be cooking for a large crowd or you are planning to use an electric smoker at a family gathering, make sure that you choose the electric smoker that has enough space to cook all the food in one go, or considerably fewer times.
Ease of Use:
One of the main reasons electric smokers are considered better than other kinds of smokers is the fact that they are very easy to use.
This is why when you consider a product, you have to ensure that the electric smoker of your choice comes with a user-friendly design.
Other than that, you also have to check for the time-temperature control panel on the electric smoker and look for features such as digital thermometers.
These features will ensure that you have the best experience and it is not too difficult for you to operate a specific electric smoker.
Apart from these, an electric smoker must come with a window so you can assess the progress of the food being cooked inside.
If you want added comfort, look for Bluetooth connectivity options on the electric smoker. This will allow you to be able to control the product from afar.
Temperature Range:
When it comes to picking up an electric smoker, you should ensure that the option that you are choosing comes with a good heating element and has to offer smoke levels that will go around the temperature range of 100 to 400 Degrees.
There are some foods that can only be cooked at higher temperatures.
This is why you should choose the electric smoker whose heating elements maxes out at the range of 500 Degree Fahrenheit at least.
However, being powerful is not the quality you should look for in the heating element of a specific electric smoker.
You also have to ensure that the heating element and the smoker itself are easy to take control of.
Moreover, the electric smoker should also come with a feature that allows you to just set the cooking time and let it sit and forget.
There are a lot of electric smokers out there whose settings can be controlled digitally.
This allows the users to be able to control the devices easily.
Mobility:
Since we are on the topic of considering small-sized electric smokers, we consider portability to be an important aspect when you are looking for an electric smoker.
If an electric smoker is portable, you will have the ability to be able to use the electric smokers in different places.
This factor especially matters if you are going to be wanting to use the electric smoker in a different place.
However, also ensure that an electric smoker is durable and lightweight. This will remove the element of being damaged when you move it around.
Also, the lighter the electric smoker will be, the easier it will be for the users to move around.
Also, make sure that an electric smoker comes with a power cord that is long enough to connect to a distant power socket.
Ease of Maintenance:
Make sure that the product you buy is quick and easy to maintain.
Most people when buying electric smokers sideline this factor and go through a lot of trouble when it comes to maintaining them or cleaning them after cooking.
This is why you should choose an electric smoker that comes with cooking grids, racks, panels, wood chip trays that can be removed easily.
You should also make sure that you get an electric smoker that has all the replaceable parts available.
These features will make it easy for you to prepare the meal.
This will also ensure that you can make your electric smoker last longer than most of the other electric smokers that are available for purchase right now.
Remote Controls:
There are many electric smokers that come with remote control features.
This will allow you to be able to cook on a BBQ grill without having to stay near it at all times.
All the users will have to do is to adjust the temperature internal light, or check the internal meat temperatures from a distance.
This will allow you to be able to keep tabs on your cooking with the help of the meat thermometer.
As the food gets smoked, the temperature readout button on your remote control is going to let you be able to monitor the progress of the cooking.
Considering all the things, it can get a lot easier to cook when the remote control is present.
3 In 1 Combo Try:

It is essential for you to shop for the small electric smoker that carries 3 in1 combo tray infused in it.
In other words, if your selected smoker is equipped and installed with such an element, then it means you have shopped the ideal and perfect smoker.
Offer optimized and ideal cooking capacity
According to experts, you have to give your love to that respective electric smoker that delivers optimized and ideal cooking capacity time to the user.
It should have easy to clean and quick to maintain chrome-plated cooking grates. The larger the number of cooking grates, it means you can cook maximum meals at once.
Easy And Quick to Transport:
You should not buy those electric smokers that are not easy to transport.
Hunt for the model that is easy and fast enough to transport from one location to another.
If it has a lightweight design and comes along with handles, then all such kind of smokers allows you see much ease of mobility.
Presence of Full View Window:
All high-end electric smokers have a full view window in them so that you can keep on checking out the progress and cooking status of your meals.
Through this full view window, you do not have to take out your food to check its status, just see through the window and retain the flavorful smoke of your meal.
Different Smoke Settings:
It is suggested to have an electric smoker that shows various and different smoke settings.
Along with this element, it should be infused with this Bluetooth Smart technology.
This way, you can control and keep an eye on the cooking experience of yours by using the digital control panel.
Four chrome-coated racks and a meat probe thermometer
Lastly, you should purchase an electric smoker that has at least chrome-coated racks in it.
It needs to have a meat probe thermometer so that you can keep on getting perfect results each time you use that smoker.
So, this is the simple buying guide that you have to mandatory follow while getting the small and compact electric smoker for yourself.
If you have more questions on this penned-down info, you can ask us.
Frequently Asked Questions:
Conclusion!
Wrapping it all up we hope the article was helpful enough. Now, that you know about small electric smokers.
You can pick out the best option from the list we jotted down. For any further queries, feel free to contact us.