A seasoned griller knows that investing in the right type of grill cleaning tool is a great way to prolong the lifespan of their precious kitchen gadget.
To them, the importance of cleaning a smoker cannot be overemphasized. This is because a lack of proper maintenance can lead to a lot of complications when using the smoker.
It is, therefore, necessary to keep the smoker and maintain it at all times.
We are going to see the proper cleaning methods for electric smokers, gas smokers, and charcoal grills.
In the end, you should have enough knowledge to clean your smoker the right way. But first, let's look at the reasons why you need to maintain your smoker.
Reasons Why Maintaining a Smoker is a Priority for all Grillers!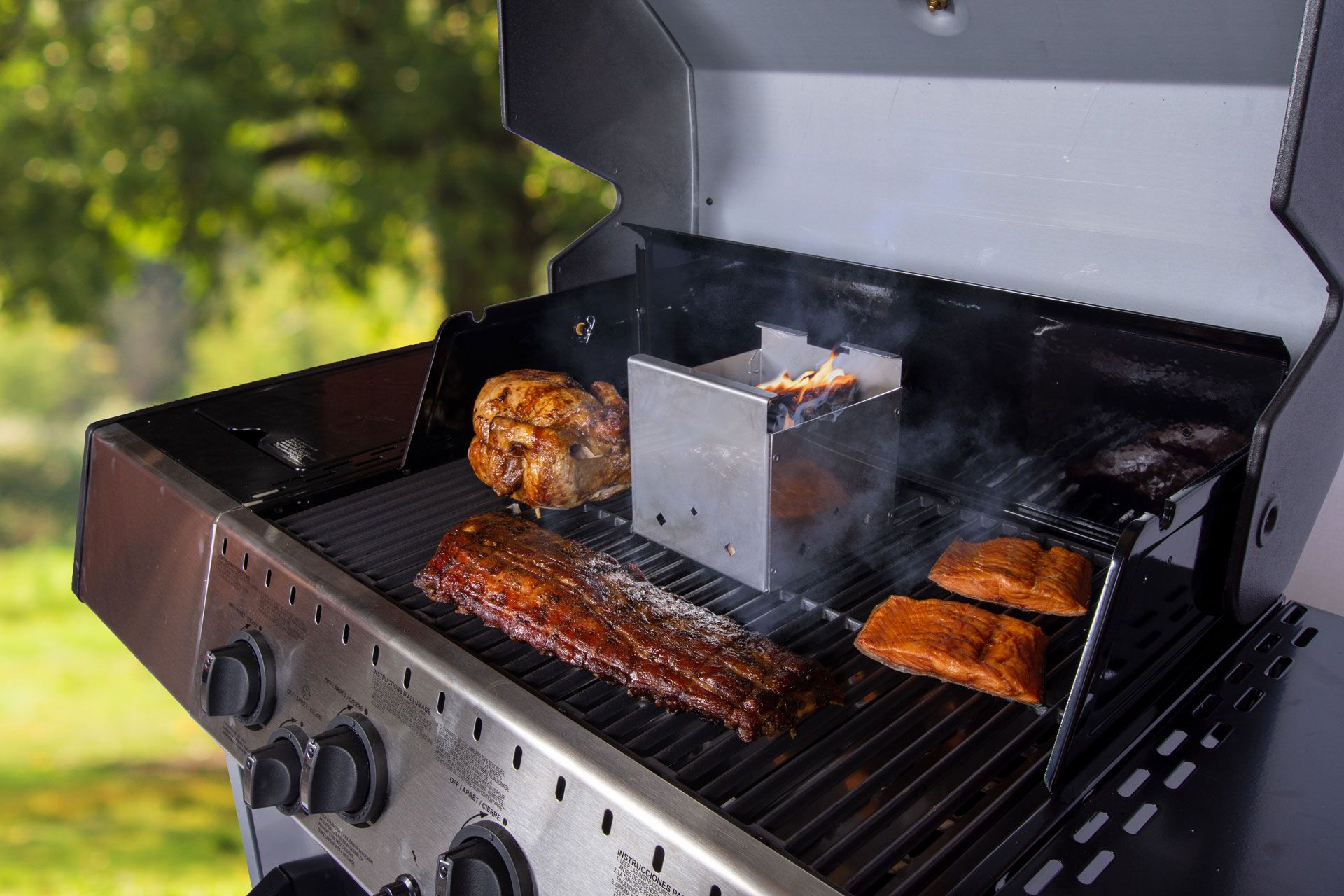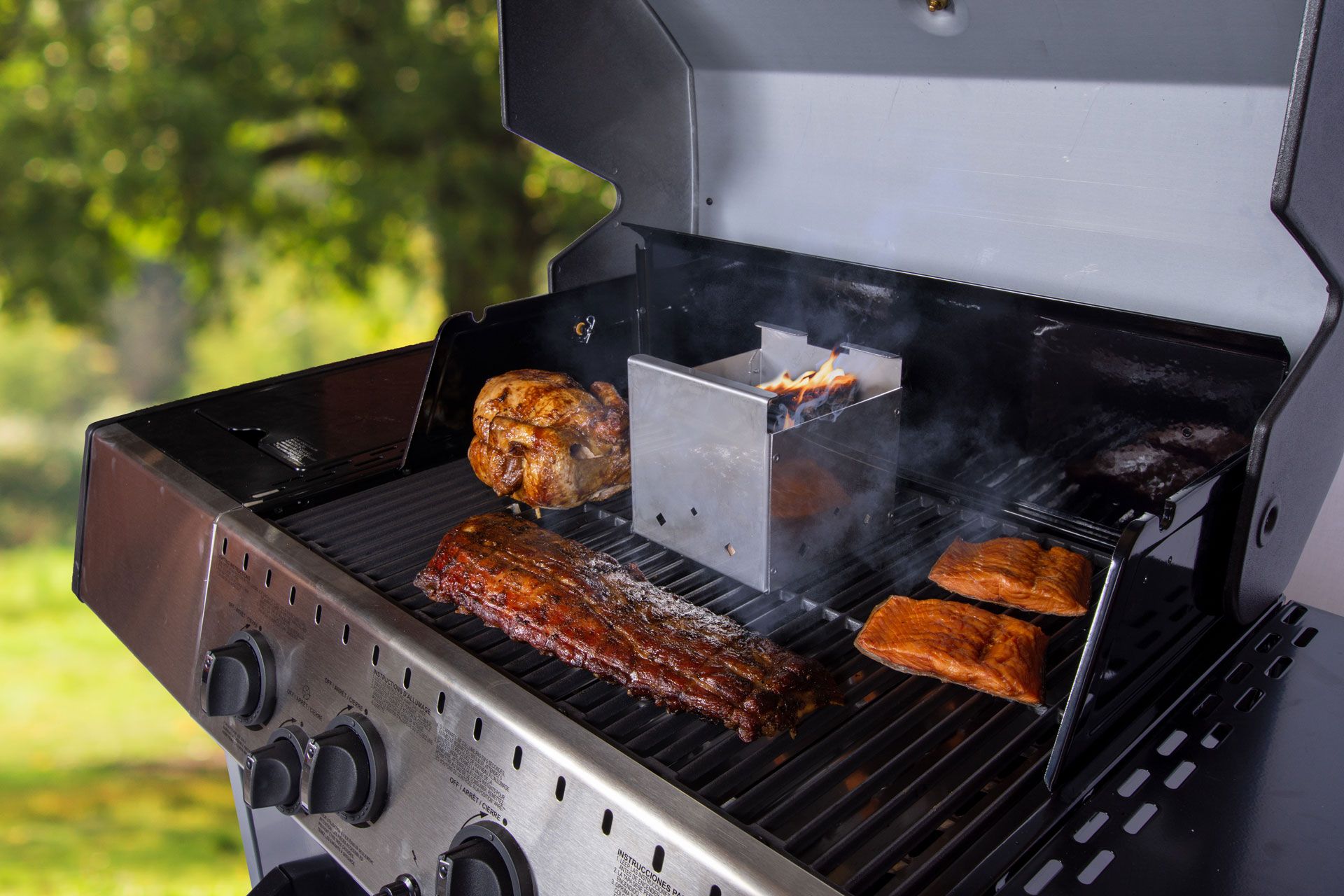 1. Health Reasons:
Cleanliness improves your hygiene in all aspects. Just the fact that keeping your smoker clean makes it hygienic is enough reason to keep it clean.
If you can maintain and clean your other gadgets, why not do the same to your smoker? When you have a clean smoker, your food will be free of residue and bacteria, which will impact positively on your health.
2. Preserving the Flavor of the Smoker:
Usually, residue and resin have flavor. If the pipe is dirty and smoke makes its way through the pipe, it accumulates the gunk which certainly has an impact on the final taste of the food.
This may not be noticeable to a new griller, but experienced grillers who can detect a slight change in taste will be able to know there's something wrong with the taste of the food.
3. Prevents Rust:
If you are using your smoker and leave dirt and residue without cleaning them, there's a high chance your smoker will start having rust patches.
And when there is rust, it could affect other areas of the smoker, leading to quick depreciation.
On a more serious note, rust can cause your smoker to stop working or some other parts to stop functioning properly.
It's, in fact, the number one enemy of metal gadgets. Keeping rust away from your smoker should be a priority.
4. Reduces the Cost of Replacement Parts and Preserve the Smoker:
Cleaning your smoker will definitely improve its functionality. And when it continues to function properly, you don't have to worry about replacing any part.
Proper cleaning and maintenance of your smoker can preserve its lifespan much longer. This will help you save costs on unnecessary expenses to replace parts or even purchase a new one.
And remember, the excess build-up of creosote, carbon, food particles and grease can render your smoker useless.
These are some of the important reasons why keeping your smoker clean and free of debris is important. And cleaning this cooking device does not require much expertise or any special skills.
That's exactly what we are going to learn today.
How to Clean an Electric Smoker at Home? (

Step by Step Process

)
If you have an electrical smoker, it's important to know the right way to effectively clean all parts and sections for the smoker.
But before we do that, let's look at the tools required to do an exceptional cleaning task.
Tools Required:
If you are a newbie griller, it's important to know the tools you will need to keep your smoker neat at all times.
To carry out a proper cleaning of your smoker, the following tools will be needed.
High temperature cooking oil
Mild soap and water solution
Garden hose or handheld vacuum
Aluminum foil
Owner's manual
Newspaper
Note: although these tools are all important, you can still carry out a proper cleaning even if you don't have all the tools (like a handheld vacuum) mentioned above.
If you have a porcelain-coated grate in your smoker, you will need a nylon scrubber grill brush to clean that area.
This will help clean the place effectively and prevent any scratch on the surface.
Step

#1: Things to do After Every Use
When you are done with the cooking, take out ash from your electric smoker. To do this, just pull out the tray and empty it in a bin. If you don't have a non-combustive bin to empty the hot ash, allow the ash to cool off a little before removing. Use a wet cloth or paper towels to properly clean the remaining residue off the ash from the tray with hot soapy water.
Next, remove the drip collection tray and the cooking racks and wash them with soapy water. Here you don't need to use abrasives or chemicals to wash. But if you are dealing with a strong residue that is difficult to remove, you can soak the rack in water for about 30 minutes. By then, the residue would have softened for easy cleaning.
After drying the pans and making sure it's completely dry, soak a little amount of vegetable oil on a cloth and rub gently on the pan. This will prevent any chance of rusting or stickiness of the foodstuff the next time you make use of the pan.
Clean the meat probe with a wet cloth soaked in soapy or hot water. Make sure you don't soak the meat probe in water. It may lead to damage to the probe and prevent accurate readings in the future.
Take care of the door seals too. This area is exposed to residues and there may be some clinging onto the door seal. After use, make sure you clean this area with a soft wet cloth.
After cleaning the door deals, it's time to do the same with the glass door panel. You also need to make use of a damp cloth here.
However, if the glass has received too much clogging of residue, you need to use a more detailed process of cleaning with abrasives to get rid of the strong residues. This will prevent any form of rust on the surface.
Step

#2: How to Clean the Cooking Chamber?
Once you are through with the step above, the inside of the smoker should be empty by now as the cooking racks and ash box has been taken out. One important thing to note before cleaning the chamber is to allow it completely cool down after use before the cleaning process.
Clean off any residue or scoot from the chamber with a soft scrubber brush. To collect debris and do the job neatly, you can place a paper or sheet under the smoker. This will save you the stress and time of sweeping the floor after cleaning.
Wipe and scrub the inner surface of the chamber with warm water. Sometimes you have to scrub a bit harder to remove any hard particle in the chamber. You can make use of a bristle brush or a sponge for this purpose. But do not use a hard brush as it could damage the interior surface of the chamber.
After cleaning the chamber, wipe dry using a soft dry towel. And ensure that any plastic bristle from the brush does not stick to the chamber or any crevices. They will just constitute more debris on the smoker, so make sure everything is wiped clean.
If you are making use of a high-quality soft brush, it will reduce the number of bristles pulling off from the brush. So settle for a premium quality brush because your electric smoker deserves the best cleaning tool.
Step

#3: Cleaning the Exterior of the Smoker
After cleaning the interior areas of the electric smoker, it's also important to clean the external sections.
The good news is, this area is the easiest part to clean. You don't have to squeeze your hand or strain your eyes to get to the inner edges.
Everything is open and exposed to your view.
Here, warm soapy water and lint-free cloth are used.  Soak the cloth a little in the water and clean gently, removing any hard debris with your cleaning brush. After making sure you have thoroughly cleaned the surface, wipe with a dry towel, or leave it to dry before use.
Do not assemble and use the smoker when it's not entirely dry. Remember you're dealing with an electric device and water and electricity are really not good friends. Some electric smokers do have a window, so it's important to clean that area too.
Step

#4: Cleaning the Thermostats
This is one area where users commonly overlook. Your thermostat is important for the right temperature readings.
Allowing debris and dirt to clog on the thermostat may cause rust or improper temperature readings.
Use a soft wet cloth and wipe the surface. You don't need to disassemble anything before this is done. Just clean the usual way to make sure the thermostat is free of debris.
Once you have cleaned every aspect of the electric smoker, the next thing is to keep everything in their right positions.
Allow moisture to completely dry out before use. As stated earlier, using the electric smoker when it's not completely dry can lead to electric shocks and other damage to the smoker.
The above is the simple step to take when cleaning the electric smoker.
This cooking device does great work for you, so you need to keep it clean and maintain it always to ensure long-lasting use.
Precautions to Take When Cleaning and Maintaining the Electric Smoker:
Although we have mentioned some of the precautions in the bits above, it's important to stress them again.
Preserving your electric smoker requires not just cleaning but proper care and maintenance while following the right maintenance culture.
Here are certain things you need to avoid when cleaning the electric smoker.
See the Manual First:
Before you start cleaning your electric smoker, it's important to go through the manual. Although most electric smokers have the same design pattern and similar cleaning procedure, there may be a slight difference in certain models.
The way you pull out or disassemble some parts may differ from one model to the other.
So do not assume your current electric smoker is the same as the one you have used in the past. It won't hurt to read the instruction to identify if there is any difference.
Don't Use Abrasive Cleaning Products:
When cleaning your smoker, it's absolutely important to use only non-abrasive cleaning products.
Once you start using abrasive cleaning products, your smoker will be open to more damage as its likely going to accommodate more cooking residue and grime.
You're also likely going to scratch the surface, which makes it look pretty untidy.  So make use of only soft abrasive cleaning agents when cleaning the electric smoker.
Allow Smoker to Dry:
After cleaning the electric smoker, allow it to completely dry of water before assembling them back for use. Do not just wipe with a cloth and start using immediately.
Keep it in an open place for about 15 minutes. This will prevent any electric shocks when using the smoker.
Again, when keeping the smoker to dry, place it in a well-ventilated area to prevent any layer of creosote. This substance can easily build up in your smoker if the area is poorly ventilated.
And it can gradually damage the electric smoker if it stays there for a long time. Always allow the smoker to dry off completely before making use of it.
Always Keep the Drip Tray Clean:
Oil and water get collected in the drip pan. Allowing the mixture to stay there for long can lead to rust and more complications for the smoker.
Always make sure you clean the drip tray and other areas immediately after use to prevent the build-up of rust on the surface.
Oil the Cooking Pan Before Use:
This is a preventive way of keeping your smoker pan free from debris. You can oil up the pan to prevent food debris from clinging to the pan and acts as a protective coating. That way, it will be easier for you to clean after use.
 Overall, maintaining your smoker requires practicing simple cleaning and maintenance rules on your gadgets.
The lifespan of your smoker is mainly dependent on how they are handled. If it is properly cleaned and maintained always, it will stand the test of time and give you great value for your investment.
How to Clean a Charcoal Smoker? (Steps)
Your charcoal smoker also needs maintenance. In fact, they require more constant cleaning because they are more likely to get stained from charcoal and burnt wood.
Wood and pellets can clog the fireplace and other areas of the smoker if they are not cleaned always. But with the right maintenance method, your smoker will surely serve you well.
Apart from the usual cleaning after each use, you need to clean the smoker thoroughly at least twice every grilling season to maintain the smoker and help it stay longer.
Below are the materials and processes of maintaining a charcoal smoker.
Tools Needed:
Fork
Putty knife or bristle brush
Plastic bags or paper
Aluminum foil
Coarse cleaning brush or grill brush
Steps to Follow

:
Get all your cleaning materials in one place. Start by cleaning the charcoal grate and the grill grate. Depending on the type of smoker, pull out the grill grate if it's easy to remove.
Then clean with a coarse cleaning brush. If you have a kettle charcoal grill, you need to follow the same approach with the charcoal grate. Clean with a soft brush as you remove any debris that has found its way to the grate. You're not done here. Use aluminum foil and scrub effectively, taking off any stubborn debris your brush has missed.
Clean lid and underneath the smoker: Wipe or brush any stains or debris from underneath the smoker. To remove debris from hidden areas of the smoker, cover your hand with a paper bag and sweep the debris from the smoker.
Gather the debris and place them in a waste bin. Some charcoal smokers come with the catcher. If this is the case with yours, empty it.
Afterward, take the putty knife or a bristle brush (whichever you have) to peel off any grease or carbon flakes on the smoker. Then wipe the entire area with a soft damp towel. Do the same with the lid and clean thoroughly before moving on to the next segment of your cleaning.
Clean the cooking space. It may not require much work, but sometimes it's important to wipe out any debris left in the cooking space.
Any debris left before your next cooking task may cause the meal to burn easily. Their small composition means that they may receive too much heat, which will rub off on the meat or food you are smoking.
After cleaning the entire sections, it's time to assemble the parts. But before you assemble, make sure all parts are dry and moist-free. It will keep your smoker free of rust. Place all parts of the smoker you have removed back to their normal position. After that, your smoker will now be ready for use.
Note: As stated earlier, do not allow the ash catcher too full to the brim before emptying. Empty regularly to prevent any clogging of debris.
Rub oil on the cooking grate before grilling to prevent food particles from getting stuck on the grate
Always store your smoker in a clean dry place to prevent the accumulation of moisture, which may lead to serious rust.
Once in a while, you can do a general cleaning and maintenance routine to revive the functionality of the smoker.
As long as you keep the charcoal smoker clean and free of debris, you will surely enjoy your cooking activity with the smoker for a very long time.
How to Clean a Gas Smoker? (
Steps

)
Cleaning your gas smoker requires a similar cleaning process like the charcoal smoker, but with slight differences.
Tools Needed:
To clean a gas smoker, you will need the following materials:
Dish detergent
Wire scrub brush
Rubber gloves
Aluminum foil
Putty knife nor grill brush
Step

#1: Safety First
Before cleaning your gas smoker, you need to put on your safety gloves to prevent any sticky metal or staining your hands with grease.
Yes, you can clean up the grease but it will require some efforts to completely get some difficult grease out of your hands. So, wearing a glove will keep your hands neat.
Step

#2: Start with the Interior
Before cleaning the inner part of the smoker, you need to take out all the parts you can remove. This will give you enough space to reach difficult areas.
Use a bristle brush and a soft sponge to clean the interior of the gas smoker. Make sure the brush is soft to prevent any scratches on the surface. But before cleaning, use the brush to wipe off any debris or dirt in the food container.
Use your damp sponge to gently scrub the chamber, removing any dry debris from that section. If there is any hard or difficult food remnant in the chamber, this is where you have to use your bristle brush
After cleaning with your sponge, wipe off with a dry towel or cloth to ensure that no debris or bristle is still left.
Step

#3: Take Care of the Ash
Ash usually builds up in the tray after smoking. Keeping them there for long can lead to building up of rust on the tray.
To prevent this, remove the ash and place them in a waste bin or an ash bucket.
Then clean the tray thoroughly before wiping with a soft cloth. Use the bristle brush to scrub off any difficult ash clogging on the tray.
Step

#4: Clean the Water Pan and the Rakes
Clean the racks and rinse with warm water to remove any remnant from the rack. You can make use of a scrub or brush to remove any grease or dirt.
To avoid difficult cleaning in the future, rub the racks with vegetable oil before placing your meat for cooking.
This will cause a bridging gap between the meat and the rack, leaving the latter smooth and clean after use.
The only thing you have to do is clean with mild soap and water without any need to scrub.
Step

#5: Cleaning the Door
The interior door of your gas smoker is another area you should pay attention to. It could get smuggled if not taken care of.
Always use a dry cloth to wipe off the debris on the inner door to prevent rust accumulation.
Step

#6: Cleaning the Exterior
This is the easiest part to clean. You don't need to immerse anything in the water. You can leave it as shiny as ever only when you clean regularly.
Remember that your smoker interior may look dirty but the exterior is what others would see first. So, it's important to take care of the outside area of the smoker too.
And it's simple. Just wipe off the surface with a soft damp cloth before wiping with a dry cloth. After that, your cleaning session is over.
Just make sure you give the smoker some time to completely dry off before using it again.
How to Clean the BBQ Grill? (
Steps

)
If you have a BBQ grill and want to know how to properly clean and maintain it, this section is for you. It's simple to maintain.
With the right material and the right cleaning method, your BBQ grill will last long for you. Read on to find out how best to maintain your BBQ grill.
Cleaning Tools:
You will need to follow to properly clean and maintain your grill
Elbow grease
Soapy water
Wire brush
Gloves
Grill brush
Rags and disposable sponge
Step

#1: Remove all Removable Parts and Soak In Warm Water
To effectively clean the BBQ grill, you can disassemble the removable parts of the grill and soak in warm water. Allow them to soak for about 15 minutes before taking out to clean.
This is to soften any strong or hard debris that has clogged on some of the parts and their edges over time.
Step

#2: Make Use of a Vacuum If You have
Using a handheld vacuum is the fastest and easiest way to get rid of any small particle of debris hanging on to your grill, especially at the bottom.
Just the way you make use of the vacuum for other devices, place the nose of the vacuum at the right place and concentrate on the edges, making sure the debris is taken out.
But some stains may not be easy to remove with a vacuum. In that case, you can make use of a bristle brush or clean gently with a damp cloth to soften and remove the debris.
Step

#3: Clean the Exterior
After cleaning the inner parts of the grill, it's time to do the needful on the exterior. If you have a stainless steel grill, it's easy to remove stains on the grill. Just soak your rag or soft cloth in warm water and clean gently.
Scrub smoothly until the little stains and debris are clear. Then wipe clean with a dry cloth.
Allow the surface to get dry before assembling back the other parts.
Finally, assemble the other parts of the smoker. After making sure the parts are free of debris and clean, it's time to assemble the other parts.
Do this carefully and place everything the way they should be. When you are done, your BBQ grill is now set to be used again.
Try to make this cleaning a routine activity. You can do the usual cleaning and wipe after each meal.
But a rigorous cleaning and maintenance session needs to be carried out at least 2 times a month if you are using it regularly or once a month when using the grill on an occasional basis.
This will prevent rust and prolong the lifespan of your BBQ grill.
How to Clean Electric Cabinet Smoker?
If you have got an electric cabinet smoker, then there is a specific way to clean it. It is important for you to read the manual before you go on with this cleaning job.
Firstly, before you start to clean your smoker, make sure that whether it is properly cool or not.
It is with the help of hot soapy water that you can clean the racks and drip pan of this electric cabinet smoker. You can use a dishwasher as well.
Your smoker needs to be dry completely before you use it again. You can dry it by using a paper towel.
If there are loose or bits and pieces of food and ask present in your smoker, then take out those pieces by using a soft bristle brush. Do wipe down all of the metal walls by taking a damp sponge.
Make sure that you avoid damaging the interior shiny side of your smoker. Do not discolor it by rubbing it with a sponge in a harsh manner.
On the other hand, you need to wipe down the temperature probe as well as the button-shaped kind of interior thermometer.
If your electric cabinet smoker has got a glass front, then make sure that you do clean it with the help and use a damp sponge.
In the market, you can come across lots of cleaners; they are exclusively and specifically formulated and approved by reliable and trustworthy manufacturers.
The last step is to reassemble the smoker; its interior has to be thoroughly dry before you plan to use it again.
How to Clean a Pellet Smoker?
Before you clean your pellet smoker, it has to be completely cold and unused for about a time frame of 24 hours. What you can do is to a large plastic tub.
Fill it up with hot water and dish soap. Keep the grill rack right in the water all along with the chimney dome. Start to scrub all the parts of your pellet smoker and air-dry them wholly and thoroughly.
You can take out the grease shoot from your smoker by using a paint stirring stick or you can take the help of a long-handled wooden spoon.
The inside zone of your pellet smoker chimney, it should be scrapped completely and properly. You will be surprised to know how much amount of gunk gets to be collected and accumulated in it.
Regarding the maintenance of your pellet smoker, you can brush its grill grate with the help of a brass-bristled brush.
Remove its grease bucket and keep it in a secure and safe place where any kind of animal is unable to access or reach it.
This is necessary as you may have known that raccoons love these grease buckets. As soon as your smoker has cooled completely, then take off any of the peeling paint presents on it.
You can treat this situation instantly and immediately and avoid letting your smoker become the target of rusting.
Conclusion!
The meat smoker is definitely an important addition to your home and kitchen gadgets. You invested a lot to have it and it's your duty to clean and maintain the grill properly.
The above cleaning and maintenance methods for different types of smokers will be helpful for those looking to prolong the lifespan of their smokers and get good value for their investment.
As long as you follow the right maintenance routine and clean after each use, your food smoker will serve you for a long time.