Bradley is a family company but it all started back in the 1970's and it all started out of curiosity. One man wanted to learn how to catch salmon and the other one wanted to know how to smoke it. Two men meet, exchange knowledge about those two things and one of them was the founder of Bradley electric smokers.
He knew how to catch salmon, but had no idea about smoking it, so he made a deal with a man who knew how to smoke it, but had no idea how to catch it.
Since then, everything is history. Today, Bradley smoker one of the most popular smoker brands and it has customers all over the world. They are producing high-quality electric smokers which will provide you a great smoking meal, not matter if you are a skilled smoker or just a beginner.
People behind Bradley smokers know that the most important part of the whole smoking process is smoke control and that is why they are focused on a good performance of every Bradley electric smoker they make.
There are 3 main Bradley electric smoker models and I will introduce you to the each of them. In my Bradley smoker reviews, you will learn everything you need to know about Bradley smokers before you decide if they are a good choice for you or not.
They don't have many models, but that doesn't mean their models are dull. Every model they have, they have made in different versions which means that you can choose the features of the basic model. To help you explain the number of models and their versions I have made a table of content with each and every product that comes with the Bradley name.
Bradley original smoker
The Bradley original smoker is a smoker that looks amazing and high tech, but it is actually simple to use. The entire Bradley offer looks very similar, but their performances are different.
This Bradley electric smoker has 572 square inches of cooking space and 4 adjustable cooking grids in the cabinet. There is one interesting feature about this Bradley smoker original. It has two heating elements. The cooking element and the smoking element. The cooking element has 500 watts and the smoking element has 125 watts. This feature you can't find in other brand smokers and that is what makes Bradley electric smokers so interesting.
With two heating elements, you can use your Bradley smoker original as a hot smoker and cold smoker, but you can also use it as an oven and dehydrator. That is not the only thing which makes Bradley smokers distinguish from other smokers on the market.
First, I want to talk about the design of this Bradley smoker which is similar to every Bradley model. As you can see, they decided to go with the refrigerator design which provides best smoking experience for their taste. The interesting part is what every Bradley smoker has on the side. It is a bisquettes dispenser which adds bisquettes to the smoker in controlled periods. That means you can fill the dispenser up and leave the smoker unattended. The smoker will add bisquettes when it is time which means that there is always the same amount of smoke in the smoker. They have made an impressive unit which controls the amount of smoke in the smoker.
The smoke generator adds bisquettes every 20 minutes so you can be sure that the smoke is always in the smoker. Everything about the smoke you are controlling on the smoke generator. You have an on/off switch and the temperature control.
The only downside of those bisquettes is the fact that you can only use bisquettes made by Bradley smokers. People aren't happy with that because there is always a chance you can end up without bisquettes if they go out of business. But, I believe they will be around for some time.
If that really happens I am sure someone will produce spare bisquettes because there are too many Bradley smoker original and other models on the market. That means it might be a chance for another business deal here. But, that is not the topic here, let's get back to the Bradley original smoker.
Bradle Smokers original smoker has different versions and I will show them later in the article but I want to share with you one thing that is cool to me. Each Bradley Smokers original smoker has some sort of drawing on the doors which is great because it is not the basic black model or stainless steel model.
Now, let's switch to the interior and the performance. The interior is insulated which means that smoke stays inside. The only way for smoke to go out is through the vent on top of the smoker, which you can control, or when you open the doors. The automatic bisquettes dispenser gives the smoker opportunity to smoke 8 hours straight and you don't have to be with it all the time.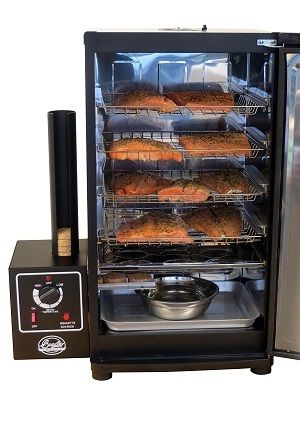 The stainless steel interior and removable cooking grids in the smoker gives you a chance to clean the smoker quickly and without problems. The pans are also removable so you can clean the entire smoker from top to bottom very easily.
The Bradley Smokers original smoker is not a digital smoker which means it only has the analog temperature gauge on the doors. If you want to measure the temperature more precisely I suggest you buy a meat probe thermometer, but that doesn't mean it is a thing you must do.
As you can see Bradley original smoker is not just an electric smoker, it is also and over and dehydrator. It is a little pricey, but when it comes to features it has and the fact that you can use it differently I wouldn't say it is too expensive, I would say that the price is just right. I would recommend this smoker to people who are interested in learning a lot about smoking because it offers you the ability to try hot and cold smoking which is pretty interesting.
PROS:
Two heating elements
572 square inches of cooking space
Special bisquette adding control
All Versions of Bradley original smoker
In the first Bradley smoker review, I have shown you what Bradley Smoker original can do. Here I want to talk about other versions of this Bradley smoker model. They are very similar to the basic model I have reviewed but with small differences.
Bradley Original Smoker
This is the smoker I have reviewed above in the main review, let's call it the basic model. It is the first Bradley original smoker. It has 572 square inches of cooking space and 4 adjustable cooking grids in the cabinet and it comes with 2 heating elements – one for smoking (125 watts) and other for cooking (500 watts).
Designer Series Blue Smoker
Another Bradley Smokers original smoker is the blue smoker here. It has the same characteristics like the Bradley Original smoker I have mentioned above. I am talking about the 2 heating elements, 572 square inches of space and 4 cooking grids. Everything I have mentioned in the main Bradley Smoker original review can be applied to this smoker, except the drawing on the doors. This one has a beautiful blue color on the doors so if you are a fan of elegant and fancy designs, this one may be better for you.
The Realtree® Bradley Original Smoker
The third Bradley Smoker original is the Realtree smoker which is decorated with the Realtree Xtra® Camo, a company for producing camo patterns for any outdoor activity. It is a great smoker to use outside in your cabin while you are busy running around in the woods. This is a version of the Bradley original smoker BS611, which means it has the same characteristics like the two above I have already mentioned. But, besides the design of the doors, this smoker has one other difference. You can choose two sizes, the smoker with 4 grids and with 6 grids. That means that the 4 Bradley smoker 4 rack has 572 square inches and the Bradley smoker 6 racks have 835 square inches of cooking space and everything else is the same.
Bradley Outdoor Original Smoker
This smoker has the most basic design of all smokers here I have reviewed. It is the same Bradley Smokers original smoker like everyone other version and it has every specification identical. I am not sure why is this one called the "outdoor" smoker because it is the same as the rest of the Original smokers. The only difference is the black design without any decoration except the Bradley logo beneath the temperature gauge of the smoker.

Bradley digital electric smoker
The second model I want to share with you is the Bradley Smoker digital smoker. This model also comes in different versions so I will make a Bradley smoker review where I will introduce you to the model and below that review, I will show you other versions of the Bradley digital smoker.
The Bradley digital smoker is very similar to the Bradley Smoker original, but I will show you everything from the beginning so you don't have to return to the main Bradley original smoker review to remind yourself.
The Bradley digital 4 rack smoker is a smoker that has 572 square inches of cooking space and 4 adjustable cooking grids. The smoker is very convenient because you can use it as a smoker and as an oven. It has two heating elements; 125-watt heating smoking element and 500-watt heating cooking element. The maximum temperature you can set on the smoker is the 280°F and the minimal depends on the weather around you because it is adjusted to the temperature outside the smoker.
Just like the Bradley original 4 rack smoker, this smoker has a special unit that adds bisquettes in the smoker every 20 minutes. The only difference is that this controlling unit is digital. At the first glance, it looks complicated because you have one big screen and 8 buttons all around the screen, but it is actually very simple to use. Every button has an explanation what it is for. You can turn the smoker on/off, set the timer and the temperature for the smoker. All that you can also do for the oven in the Bradley electric smoker. It is easy to figure out because one side is for the smoker and the other is for the oven. You set the temperature below the screen. Also, whatever you set you can see on the screen so you can't get confused.
From the outside, this Bradley digital smoker hs a powder epoxy steel construction which means it can withstand the weather. From the inside, it is all covered in stainless steel. Everything inside is removable which means you can easily clean it when you are done with smoking the food.
The exterior is actually pretty dull when you are comparing it to the Bradley smoker original electric smoker. Bradley Smoker digital is entirely black with the basic silver doors, without any decoration. Actually, there is one thing. The doors have a Bradley smoker logo on them.
There are few things you have to know about all Bradley smokers. They can sometimes produce a lot of smoke so I wouldn't put it inside of your home. Maybe garage if you have to, but I would use them outside. After all, they are smokers, not grills.
Also, if you use them during the extremely cold period (for example during January when the winter is very cold) the smoker will probably have trouble achieving the top temperature. They are not produced to work perfectly during very cold temperatures, but they will work perfectly in other conditions.
The Bradley digital electric smoker is great for families because it is easy to control and you don't have to be around it during the smoking process. Thanks to the digital control the smoker do everything and all you need to do is set the time and the temperature. That is why I believe most beginners would be satisfied with this smoker and most experienced smokers will find it interesting because you can use this smoker for both hot and cold smoking.
PROS:
Two heating elements
572 square inches of cooking space
Special bisquette adding control
Digital controller
All Versions Of Bradley Digital Smoker
The Bradley Smoker digital smoker comes in different versions, and I will show you each and every one of them here. First, I will remind you of the basic model and below that, I will show you other versions of that model.
Bradley 4 Rack Digital Smoker
This is the basic model I have reviewed above. It is a smoker with 572 square inches of cooking space and 4 racks for your food. You have two heating elements in that smoker, 125-watt for smoking and 500-watts for cooking. The digital control on the smoker is located on the unit that adds bisquettes in the smoker every 20 minutes so you don't have to do anything.
Bradley 6 Rack Digital Smoker
This is the bigger version of the smoker above. As you can see from the name, it has 6 cooking racks and 858 square inches of cooking space in the smoker which means it is for people who love to prepare food for their family, friends and other guests, then this is the one for you. If you are smoking for a smaller group of people, then the smaller smoker if better for you.
Bradley Jim Beam 4 Rack Digital Smoker
The third version is actually the exclusive digital electric smoker made in special collaboration with Jim Beam company, who produces one of the most popular bourbons in the world. This Jim Beam smoker is made dor bourbon lovers and the only difference this smoker has is the Jum Beam logo on the front door where the basic Bradley Smoker digital smoker has the Bradley logo.

Bradley Smart Smoker
The last Bradley smoker I will share with you in my Bradley smoker reviews is the Bradley smart smoker. You can assume what it is about when you hear the Smart Smoker feature, but I don't want to ruin the surprise so I won't say it now, I will say it later.
First, let's take a look at the capacity of the smoker. This is the biggest of all Bradley electric smokers. The basic capacity is 780 square inches and the basic number of racks is 6, but you can buy 4 more racks because the smoker has a space for them. You can end up with 10 cooking racks which are additional 130 square inches. In total, you can have 910 square inches in the smoker which is more than enough for you and your family, and friends, and guests.
You will get two color-coded temperature probes so you can be sure what temperature is at the bottom and at the top of the smoker at the same time because that is a large space for one probe to cover. Since this smoker is bigger than the rest, it comes with two wheels you can add on your smoker and 4 adjustable feet.
This smoker also has two heating elements, one for the oven and one for the smoker just like other Bradley electric smokers. The same thing is with the bisquettes, they are controlled by a special generator which adds another one every 20 minutes.
Now, the smart technology. This smoker has the touchscreen control center which you can synchronize with your smartphone. That feature is called the iSmoke® Technology and it uses Bluetooth to connect your smartphone to the smoker. You can connect it to iPhone and Android smartphones but there is one catch. You can use it will all iPhones but only special Android phones. The list of Android phones you can see on their website.
This Bradley smart smoker is a very interesting smoker and the Bluetooth feature is a great feature for people who love to use technology with their smokers.
I am not a fan so I can't say I would buy that one for me, but if you are a gadget lover this smoker is a great smoker for you.
PROS:
Two heating elements
780 square inches of cooking space
6 cooking racks
130 additional space if you buy 4 more racks
Bluetooth connection
Bradley Smoker replacement parts and accessories
Bradley smokers are special which means that most universal parts won't fit on the smoker. That is not the best part when it comes to Bradley smoke generator, but I am sure other Bradley Smoker parts like the Bradley smoker heating element can be found on the market. I assume if you are stubborn enough you can find any Bradley Smoker part of the smoker on the market, but you don't have to do that because the smoker comes with the warranty.
They do have one replacement part which is very important and that is the Bradley replacement heat bar. It comes with the instructions and it works for both Bradley 4 rack and 6 rack smokers.
There are Bradley smoker accessories which can improve your smoking experience and some of those accessories are very important for your smoker. For example, the Bradley smoker cover is one of the most important accessories because it protects the smoker from the debris and dirt. Smokers might be durable, but they are still electric so make sure that you have the right Bradley smoker cover.
Another accessory you can't imagine smoking without is Bradley smoker bisquettes because those are the only ones you can use with Bradley smokers. You can find Bradley smoker bisquettes in stores so you don't have to worry where you will get them. There are many different flavors of the bisquettes so you can change them whenever you want. They are also known as the Bradley smoker pucks because they look like pucks so if you can't find Bradley smoker bisquettes, try with Bradley smoker pucks.
Bradley smokers are full of accessories, some of them are Bradley smoker stand, trays, hooks, and racks so if you need anything you can find it at Bradley Smoker.
If you are interested to learn more about the most common accessories people use during smoking food, read my post about Electric smoker accessories.

Conclusion: Bradley
electric smoker model reviews
The Bradley smoker is a brand with a special line of smokers. Their generator gives you a chance to turn the smoker on, set the timer and temperature and leave it alone. I like that a lot and I would recommend this smoker to people who enjoy a good smoked meal. I like the fact that every Bradley electric smoker model has the same characteristics and you can choose whether you want analog, digital or smart option. It is a great smoker and now it is entirely up to you to see if it is a good model for you.