Cookbooks are there as a guide to help grillers to easily and effectively prepare their favorite meals in an electric smoker or other types of meat smokers. They have a lot of recipes and cooking tips that can help anyone. There are different electric smoker cookbooks and grilling guides available in the market. With a lot of cooking recipes available in these guides, there is no excuse not to become a grilling champion. This review explains the best BBQ electric smoker cookbooks. Most of them are authored by BBQ aficionados. If you want to be more efficient when grilling your meats, these guides can help you. Read on to find out if your favorite cookbook is on the best sellers list.
Our Rating: [star rating="4.5″ numeric="yes"]
This is a great cookbook for individuals who want to begin their BBQ grilling journey. The author, Will Budiaman, uses simple words to explain step-by-step how to make different types of popular recipes for meat smoking and the smoking times. The book begins by illustrating how grills are different in their use and cooking patterns. Then in the latter part of the book, the author made a clear recipe on the Texas-style BBQ and the brisket recipe. In all, you will get to read more than 95 BBQ recipes for both beginner and experienced food smokers.
Real BBQ cookbook helps grillers easily learn how to make perfect buffalo steak, beef brisket, smoked pork belly, and lots more.
The author then provided cooking tips to be able to do a perfect grilling task.
Our Rating: [star rating="4.4″ numeric="yes"]
This is yet another great cookbook by the same author of "Real BBQ". As someone who was trained in culinary jobs with a certificate, you should expect a well-written book. It is written n the same pattern with "REAL BBQ" and it's written for those who are preparing for competition BBQ. BBQ Pitmaster comes with a lot of tips to help a newbie get along with a favorite cooking task such as Texas-Style BBQ, Beef brisket, as well as smoking turkey wings.
If you are not a fan of meat smoking but would rather prefer smoking fish, there is a section for you. There is a detailed recipe on the best way to smoke salmons and other types of seafood.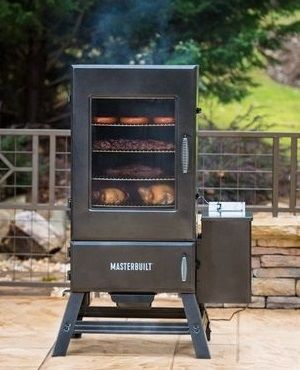 Our Rating: [star rating="4.5″ numeric="yes"]
If you are looking for unique meat recipes that are quite rare, this smoker cookbook has a lot of such recipes. It has more than 100 recipes that are carefully explained for everyone to understand. Although you may find some ingredients for the recipes too long, you don't have to use all the ingredients mentioned. Just stick to the most common ones for the taste you need and you will be fine. This cookbook does not contain enough pictures. However, the simple explanations given should be enough for anyone to follow the directions. The author, Bill West, is a seasoned griller who has written numerous cookbooks to help beginners learn how to grill properly.
Our Rating: [star rating="4.3″ numeric="yes"]
Wendy O'Neal is not a new face in BBQ and meat grilling. She has written award-winning recipes that have features across several top rated sites such as Today.com, MSN.com, FoxNews.com, the Huffington Post, and many more. This cookbook is a perfect representation of her years of experience in the BBQ business. You will have a wide range of recipes you can try on your own with simple instructions. She also explains how best to use the Masterbuilt Electric smoker for best smoking results. There are great smoke meat recipes you can try after reading this cookbook.
Our Rating: [star rating="4″ numeric="yes"]
Do not mistake this as an official Masterbuilt smoker guide for using their smoker. It's actually a cookbook with a lot of recipes anyone can try on their own. But the author, Mark Yothers, stressed the need to use the electric smoker for many of the recipes. Although, it doesn't mean other types of smokers will not work for the meals.
This cookbook is a great guide for beginners who are looking to make BBQ with the smoker for the first time. It provides step by step process of grilling and preparing several recipes. There are directions for about 25 recipes with simple directions to follow. In the end, you would have learned how to effectively make some of the most common BBQ meals.
Our Rating: [star rating="4.7″ numeric="yes"]
Steven Raichlen has certainly worn a lot of hearts with this cookbook. The book is unique in a way because it provides cooking directions for lots of recipes you may not have heard about before. That is exactly what you will get from the author of "BBQ Bible", the best selling cookbook series. There are more than 100 recipes in this cookbook with easy to follow step-by-step guidelines. The author has coached a lot of people for BBQ competition and his teaching skills were utilized in this book. The explanations and directions for the different recipes are very easy to follow. Whether you want to make tantalizing beef briskets or a savory pork loin, or just simply looking to become a BBQ pro, this cookbook will be of great assistance.
Our Rating: [star rating="4.6″ numeric="yes"]
Here is another guide on how to smoke like a pro. Sam Green makes it pretty simple for anyone who has complete control of their BBQ. In the book, you will know how to use the electric smoker, receive nutritional information on different types of recipes, get details of cooking times, and different cooking methods for different meals. The recipes do not have so many technical terms that will be difficult to comprehend. They are written in simple language for both experienced and novice grillers. In the book, it is the ultimate guide in learning about all the different types of wood chips to use and the type of flavor they will add to your meat.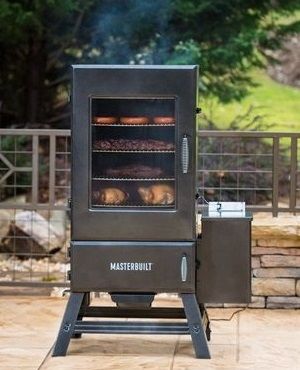 Our Rating: [star rating="4.5″ numeric="yes"]
This is written with a lot of recipes to help grillers effectively use the Masterbuilt smoker when grilling their favorite meals. Richard Alonzo has been grilling for more than 10 years. He has actually poured out his experience here. In the book, you will get more than 50 different recipes with pictures and illustration. The recipes in the book are quite tasty but very easy to prepare.
The author explained in simple terms with special illustrations and tips for the best results. There are simple tips and instructions you can follow to smoke your meat effectively.
After going through the book, you will feel like a pro already because of the cooking knowledge you will have. If you want to prepare simple BBQ recipes or even appetizers, this is a great book to guide you all the way.
Electric Smoker Cookbook– the ultimate electric smoker cookbook by George Mills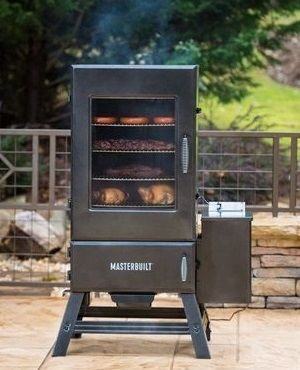 Our Rating: [star rating="4.3″ numeric="yes"]
This is a great cookbook with simple directions to smoke different types and cut of meat. The list of recipes is a good collection. They include:
Smoked shrimp kabobs
Buttery smoked artichokes
Smoked beef brisket
Baby back ribs
Smoked chicken thighs
Cajun smoked chicken
These are not all. There are many more recipes like the above you can prepare. All instructions are provided with the ingredients listed accordingly. If you are looking for unique BBQ recipes you can prepare for a get-together and cocktail party, there are lots of options in the book. George Mills actually did a good work to bring together lots of spicy BBQ meals in one book.
Our Rating: [star rating="4.7″ numeric="yes"]
Smoking with an electric smoker should be a lot of fun. This book simply brings out the fun in smoking. It explains different types BBQ recipes with the simplest of terms. The book covers a lot of recipes for different meats such as lamb, beef, pork, seafood, poultry, and even game recipes. It is not just the meat, but it also explains how to make the best sauce for each meal. It doesn't stop at recipes alone. If you are having a little problem using an electric smoker, this book provides a good guide. It explains the right temperature for each type of meal and which woodchips will work best. The author, Bill Jones, has done a great job by explaining in simpler terms how to prepare different types of smoked meats.
Our Rating: [star rating="4.4″ numeric="yes"]
Kelly Alexander and Myron Mixon are multiple award winners when it comes to barbecuing. The pair came together to produce one of the best selling BBQ cookbooks of all time. This cookbook provides entertainment while you read. They describe each recipe in such a unique way that can drag anyone in until they read the last page of the book.
The book is not too much different from other cookbooks. It explains in normal language how to prepare different types of common BBQ dishes. But it does it with illustration and pictures. It's perfect for beginners and anyone who wants to master the art of grilling.
Our Rating: [star rating="4.7″ numeric="yes"]
If you have a Masterbuilt smoker and want to learn how to effectively use it to smoke different meals, this cookbook will be of great help to you. But even a non-Masterbuilt smoker can be used on these recipes as well. It comes with amazing recipes you can easily learn with the simple explanations. You can even use the recipe as a guide when cooking in the smoker.
The book by Jack Crawford tells you which wood pellet is more ideal for which meat. Some of the mouth-watering recipes you will enjoy after reading this book include:
Smoked peaches
Smoked apples
Smoky green beans
Turkey Legs
Smoked lamb
Smoked shrimp
Beef brisket
by Melissa Johnson
Our Rating: [star rating="4.7″ numeric="yes"]
If you crave the smoky taste of pulled pork or brisket, this cookbook will be ideal for you. Melissa Johnson made a lot of efforts to make sure readers understand clearly all the BBQ recipes in the book. However, you are not only going to learn how to prepare different BBQ recipes. When it's time to go shopping for an electric smoker, this guide can help you too. It provides details on the budget, construction material, size, temperature control, and other features you should look for when shopping for an electric smoker.
Then you will get to read how she unravels the different smoking recipes for your favorite BBQ such a cheesecake, lemon bars, candied salmon, shrimp, cocoa-pepper ribs, smoke bacon, and Cajun chicken.
Our Rating: [star rating="4.5″ numeric="yes"]
Bill Gillespie is a barbecue champion who has been on the spotlight for his excellent BBQ grilling methods. He has won so many awards and he shares his experience in this wonderful BBQ recipe cookbook. The book covers a lot of recipes as he explains his methods for making the best BBQ chicken, pulled pork, and ribs.
There is no doubt you will learn a lot from his illustrative methods. You can join him in his highly esteemed BBQ league to make cream cheese, stuffed sausages, Maple Glazed Salmon, and root beer BBQ sauce. This Weber smoking recipe has already sold more than 100,000 copies, and he sure does have a lot of fans because of the book.
Our Rating: [star rating="4.6″ numeric="yes"]
Here is another excellent cookbook packaged for both experienced and novice grillers. It has several recipes for making real BBQ. Top on the list includes lamb recipes, poultry recipes, pork, as well as beef recipes. He provides simple cooking directions with illustrations and images for better understanding. You will get to see the photographs of all the recipes he has prepared while describing each of the recipes in the book. If you are in search of new smoking recipes you can easily prepare with an electric smoker, this cookbook will be a great help. Beginners who are looking for simple recipes to start their BBQ journey will love the simplicity Gary explains each of the recipes here.
Our Rating: [star rating="4.7″ numeric="yes"]
This cookbook is not necessarily a collection of recipes for different smoked meat. It deals mainly with sauces. If you want a rich blend of taste with your favorite BBQ meat, you need the right kind of sauce to go with it. Steven Raichlen explains how to make different types of sauces you will need for smoked meats. There are different irresistible flavors for BBQ and he captures them here. The latest flavor trends from French cuisines, Italian, Jamaican, Cajun, Indian, and Mexican cuisines are all captured in this book. With more than 200 recipes, it's safe to say that this book is the most detailed cookbook specifically for sauces. Some notable sources you will see in the book include chutneys, sambals, slathers, plus mops, buttery bakers, and lemony marinades.
Our Rating: [star rating="4.1″ numeric="yes"]
Checking the level of temperature for your smoked meat is very important. In fact, this is where many newbie smokers find difficult to master. This magnetic guide is innovative as well as efficient for grillers ho want to master the temperature levels of their smoked meals. They are applied on surfaces to help grillers effectively check the heat levels of their BBQ. You can place it on the refrigerator sides, on the smoker, or the griller. It's a simple guide that suggests smoking temperature as you grill. The guide is easy to read and provides different recommendations on the best wood pellets for each type of meal.
Our Rating: [star rating="5″ numeric="yes"]
This has over 100 unique recipes anyone can try on their own. Authors Bill and Cheryl Jamison have been in the BBQ business for several years. They have on lots of awards, and this book is a product of their vast experience in BBQ. The guide provides new recipes for the smoked food lovers. The explanations are pretty straightforward. Surely, no one will say they don't understand the explanations on different recipes and spices to go with. This cookbook and guide will help beginners avoid several BBQ mistakes
Our Rating: [star rating="4.5″ numeric="yes"]
Real BBQ is a step-by-step cookbook guide for those who are looking to learn new grilling skills to make the best-smoked meals. The book begins by informing its readers what they should know about smokers and how they work. After educating individuals about the different types of smokers, the next section of the cookbook is on recipes. There are so many different recipes with special illustrations and descriptions on each of them. The simpler guide helps grillers prepare pork belly, buffalo steak, beef brisket, and a whole lot of other BBQ meals. The book also has a section that provides tips for the best BBQ grilling.
A heat smoking Manifesto
Our Rating: [star rating="4.7″ numeric="yes"]
This simple hardcover guide has worn a lot of awards. It's the best selling cookbook that provides a step-by-step guidance on different types of new recipes. Aaron Franklin is the owner of the famous Franklin Barbecue. In the cookbook, he explained in simple terms what he has been used to for over many years. If you want to go to a BBQ competition or you just want to improve on your grilling skills, you surely need a mentor. And there no bigger mentor in the industry than Aaron Franklin. You can start your journey to become a BBQ pro by going through this Cookbook. It's very educative and provides all possible information you need to grill the finest barbecues.
Our Rating: [star rating="4.6″ numeric="yes"]
The cookbook is written in simple terms to help readers and aspiring grilling professionals grow in skills. It's also great for a newbie who wants to know more grilling techniques. It's a paperback version, which means you can carry it along while you prepare your favorite barbecue. There may not be a more comprehensive recipe book in hardcover than this one. Its 240 pages may look too big but each recipe in the book is clearly explained. Every recipe is well explained with images to guide you. It's a great cookbook for beginners and experienced grillers who are looking for more recipe ideas.
Our Rating: [star rating="4.7″ numeric="yes"]
Although last n this list, the cookbook is certainly not the least important on the list. The author, Jeff Phillips, has been a successful BBQ griller and the owner of ww.smoking-meat.com. It's currently the number one go-to website for seasoned grillers who are looking for new inspiration and BBQ recipes. The cookbook covers a wide array of recipes such as:
Side dishes like garlic marched tomatoes, succotash, baked beans, fire corn, cheesy taters, veggies, brie
Specialty dishes like rolled-up ground meat (meatloaf and fatties)and duck
Different sauces and rubs
Classic BBQ favorites like brisket, beef roast, and chicken.
In fact, the cookbook has a lot of tasty recipes to choose from.
Conclusion
For the newbies and beginners who want to know more about cooking in electric smokers, using the electric smokers properly and those who need exceptionally delicious recipes shared by the pro-bbq grillers, these are some of the best electric smoker cookbooks found online. They provide clear instructions and every other information you will need.