An electric smoker is a trendsetter in the cooking industry and has totally changed the way on how people go about their cooking.
It has not only added great versatility to the art of cooking but has also enhanced the taste of some conventional eatables which earlier on were cooked using the standard cooking methods.
So, with such equipment becoming an integral part of our kitchen space, our taste buds are always up for a delicious treat. However, in order to extract the maximum potential out of an electric cooker, the need at your end is to get hold of the best recipes you can find and your creativity with them would make for a totally lavish feast.
Our prime focus here would be to facilitate you with some top of the line recipes including fish, red meat, white meat, and the best you could do with the vegetables when cooked using an electric smoker.
That way you will have the tools to create a full meal with sides by simply using one cooking tool, your smoker.
Why cooking in an electric smoker is different?
Keeping it short and simple, the electric smoker provides freshly smoked and flavor meats which no other conventional or contemporary cooking method could give you.
You will never get bored with any repetitive taste of your lovable meat and vegetables as it gives you the liberty to play around with its cooking techniques and trying different recipes of the same eatable every time.
Especially, people are completely in love with smoked meat cooked in an electric smoker in the spring season.
Electric smoker, unlike conventional cooking mechanisms, is a smart device and you really do not need to supervise cooking until it is completed.
All you need is to set the device as per the cooking requirements and could freely work on other household activities.
The energy source used is electricity which is by far the cleanest source that we could trust with cooking.
In order to maintain a very constant temperature while cooking, most of the equipment comes with a thermostat and a rheostat which helps in automatically handling the temperature while cooking.
On top of all that, despite being sophisticated equipment, you really do not need any good experience to operate it.
The modern devices are quite safe and easy to operate where a user manual could conveniently help with all your queries.
Things to consider first when cooking in an electric smoker:
As discussed above that the equipment is easy to use, but it still requires a little bit of an effort to understand all its dynamics in order to make the most out of it.
The following are some of the things which will help you to jump start with the equipment in the most effective manner, right from scratch:
The electric smoker might not be ready for cooking right out of the box. You need to follow the instructions from your manufacturer to remove any unwanted odor so that it doesn't unwantedly add to the flavor of your cooked food.
The simplest and the most important rule is to not to go for an excessive You just need very fine smoke to get the best flavor out of the cooked item. Food that is over-smoked might completely ruin your recipe and that is especially true in case of white meat cooking.
Red meat does require to be cooked low and slow. But, this is not the case with the poultry. In order to cook chicken properly, target a temperature of 275 degrees
The temperature inside an electric smoker is known to swing especially in the initial stages of cooking and may also vary at the later stages in order to get to the predefined temperature. As a simple rule, if you are targeting a temperature of let's say 220 degrees then the setting of the electric smoker should be somewhere in the range of 205 – 210 degree Fahrenheit.
Using wood chips is the perfect decision, and if you are using them then be sure about when to soak it and when they are not soaked already. Especially, with seafood, soaking wood chips in water/ wine is preferable and you may skip soaking for some other meat types to get the best-smoked
Types of Electric Smokers:
Now that you are aware of the fact that electric smokers are equally efficient.
We will now take a look at various types of electric smokers to opt from.
Though the options are quite many yet you need to know the right type that will suit your needs. So let's take a look at types of electric smokers.
Vertical Water Smokers:
The most common type of electric smokers is vertical water smokers.
These have a dome-shaped removable lid with a cylindrical shape. If you want to get your hands on a cheaper electric smoker, this is for you.
If the conditions are good, vertical water smokers can do a pretty satisfying job.
Though these usually lack the temperature control features. Hence air can impact the temperature and so does outdoor climate.
But if you want to prepare fish or chicken these are a great deal. In fact, for large cuts of meat needing slow cooking, you can rely on these.
Cabinet Style Smokers:
Next, another type of electric smokers includes cabinet style smokers.
These are similar not in shape but size to the compact refrigerators.
The design includes a small door that opens to the front. Even this type has several sub-categories of smokers.
Little Chief and Big Chief Smokers:
These smokers come with a permanent set thermostat. So the temp remains maintained at about 160 degrees.
This temp may not be hot enough for most of the smoking. But for real cold smoking and small amounts of fish and jerky.
Bradley Electric Smokers:
Bradley smokers involve a smoke generator that creates smoke for the food. On top of that, Bradley makes certain biscuit shaped wood disks.
So these electric smokers can be only used with the specific wood disks. Coming with all temp control, you can opt from low to medium to high temperatures.
Electric smoker Recipes For You To Try And Enjoy:
We had enough ground now with the help of the above content to get started with some of the most delicious recipes that you could try using a smoker.
The recipes are tried and tested for their quality, taste, and the ability to become a repeated one in your meals.
Have a look below at some of the recipes of chicken, fish, turkey, beef, vegetables, and several other items, and do give them a try one by one.
Smoked Salmon recipe

Recipe by: Shadows 1 at
This incredible smoked salmon recipe is a family favorite. The farm-to-fork time of this dish is slightly more, as you are required to marinade trout overnight for getting the marinade to penetrate deep inside the fish through the cuts to get the top taste with every bite you take.
Ingredients:
Salmon fillets – 2 lbs.
Olive oil – 2 Tbsp.
Sugary curing mixture – 1 cup
Chopped garlic – 4 cloves
Grounded black pepper – to taste
Crushed and dried rosemary – 1 ½ Tbsp.
Wood chips – 1 pound (soaked in water or wine)
Water – 1 quart
Steps to prepare:
Begin by rinsing fillets and put them in a glass baking pan (shallow). Add olive oil and season the fillets with rosemary and garlic. Seasoning should be we
ll absorbed by rubbing it right inside the fish. Once done then cover it properly and keep it refrigerated overnight.
Curing salt should be mixed in 1 quart of water and then pour it into the pan containing fish. This solution should be marinated for a quarter-hour per half an inch of its total thickness.
You may set your electric smoker in the meantime to preheat and the temperature at the start of your cooking should be at 120 degrees F.
Take out fish from the brine and rinse any leftover liquid.
Every fillet piece should then be placed over an aluminum foil piece which is just the right size to support the fillet.
Season the fillets with pepper to taste.
Place the fillets now inside the smoker over its rack.
A handful of the wood chips should then be sprinkled over the fish.
Cover and allow fillets to smoke for 3 hours. You may add more wood chips just as needed.
After 3 hours, remove the fish from the smoker.
Pro Tip:
Using a Masterbuilt electric smoker, it takes about 3 hours to cook at the slow heat of 120 degrees However, if you are in a rush then the same recipe could be cooked in just 2 hours at 200 degrees F and that too without compromising taste and quality of cooking.
For a mild flavor, prefer using pecan or alder woodchip.
Smoked Flounder recipe

Recipe by: JVCALLAWAY

In the smoked fish category, this is probably the best one you could try especially in summers. You may adapt this same recipe for trout but the flounder seem to be the best option and cooks quickly too. This may come as either as a main course meal or just as a snack.
Ingredients:
Flounder – 1 whole piece
Lemon – 1, halved
Grounded black pepper – to taste
Olive oil – 1 Tbsp.
Fresh dill – 1 Tbsp., chopped
Wood chips – 1 cup, soaked
Steps to prepare:
Preheat your electric smoker and set it up for a temperature between 175 – 200 degrees F.
Begin by thoroughly cleaning the flounder first. Ideally, the head of the flounder should be kept intact for a very dramatic kind of an appearance of the dish. However, you can decide about it as per your liking.
3 to 4 slits in diagonal direction should be made using a very sharp knife. The slits should be big enough to accommodate the lemon slices. Slice half lemon into thin slices.
Rub fish lightly with olive oil and squeeze the other half of the lemon over it.
Then, rub fish in the black pepper.
Rub 1 Tbsp. of dill into the slits of the fish and then insert the lemon slices into it.
Place the flounder over a right sized piece of the aluminum foil. The aluminum foil sides should be folded high all around the flounder. Make sure that the foil should be good enough to seal the fish into a packet, but keep it open for now.
Now is the time to place your fish into your electric smoker and put a handful of your preferred wood chips over it. Apple or the mesquite woodchip should work perfectly with the recipe.
Close the lid and let your fish smoke for 10 minutes. Once the fish gets the smoke flavor then go on and seal the foil and place it on direct heat.
Remove the fish from the smoker and before serving, garnish it with the remaining dill.
Pro tips:
A good indicator of properly cooked fish is that it would flake easily with a fork.
In a char broil electric smoker, the selected wood chips should be preheated for 3 quarters of an hour. After adding fish, the smoker takes 3 hours to cook. So, the total cooking time is around 3 hours and 45 minutes.
Smoked Chicken Recipes
Smoked Chicken: Deliciously juicy Smoked chicken Quarters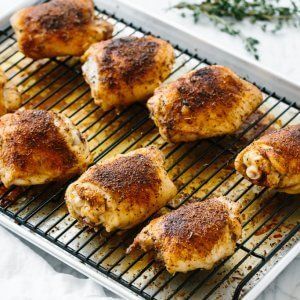 This is an easy to smoked meal where you are not required to put in too much of an effort and can enjoy the deliciously smoked chicken in quick time. You can easily get the quarter chicken pieces from the market and that allows you to get right into your cooking job.
Ingredients:
Chicken quarters – 8 pounds
Paprika – 2 Tbsp.
Cayenne pepper – 2 Tbsp.
Onion Powder – 2 Tbsp.
Garlic powder – 2 Tbsp.
Black pepper – 1 Tsp.
Dried oregano – 1 Tsp.
Olive oil – ¼ cup
Sugar – ½ cup
Salt – 1 cup
Water – as required
Steps to prepare:
The meat should be brined in order to get the moisture deep inside the chicken, which will keep the meat tender during cooking.
Take a pot of warm water. Warm it and then add salt and sugar, until the mixture gets thoroughly dissolved. Let the mixture cool for some time and then put the chicken quarters in it.
Allow this mixture to brine for at least 6 hours.
Preheat the electric smoker around 220 degrees F and thoroughly mix up the oil and the dry rub seasoning into a bowl. The olive oil and the seasoning should thoroughly mix that cover the chicken quarters completely.
The quarters should then be laid flat in the rack of the electric smokers and some wood chips should be added just as you place the meat in.
Pro tips:
For this particular chicken recipe, the best wood chips to trust here could be the pecan, hickory, cherry or the apple fruit one to get the best-smoked taste out of it.
In the Cookshack electric smoker, the recipe at 225 degrees F takes about 45 minutes to cook.
Smoked Chicken Tenders
This fab smoked poultry dish is a favorite of everyone in the home, right from the kids to all elderly people. The tender meat and that too of chicken makes a lethal combination both in terms of quality of cooking and less time it takes to be cooked.
Ingredients:
Chicken Tender – 4 lbs., rinsed and patted dry
Soy sauce – ½ cup
Vegetable oil – ½ cup
Water – ¼ cup
Sesame seeds – 1 ½ Tbsp.
Garlic – 2 Tsp., minced
Ginger root – ¾ Tsp., fresh grated peeled.
Cajun seasoning – ¼ Tsp.
Salt – to taste
Steps to prepare:
Take a bowl of medium size and add water, vegetable oil, garlic, soy sauce, Cajun seasoning, sesame seeds, ginger and salt into it. You may replace salt with any other seasoning of your choice.
Get a re-sealable plastic bag, place tenders in it, pour the marinade and then completely seal it.
Refrigerate the mixture for about 8 hours or overnight.
After 8 hours of refrigeration, make your electric smoker ready by preheating it at a temperature of 225 degrees F.
Ge the tenders removed from the marinade and let the remaining marinade be discarded. In the middle rack of your electric smoker, gently place the tenders and let it smoke for 45 minutes to 1 hour at a temperature of 165 degrees F.
Once ready then you may sprinkle any seasoning of your choice before serving it.
Pro-tips:
In the Cookshack electric smoker, and Masterbuilt smoker the chicken tender recipe takes about 45 minutes at a temperature of 225 degrees F.
For cooking tender chicken, the best woodchip by far is the hickory and that is the unanimous choice for the majority of the experienced chefs with such a dish.
Smoked Turkey Recipes
Turkey can never get tastier than that. Not only a confirm thanksgiving menu but also this could be tried occasionally all year around. This smoked meat recipe has earned a lot of repute for being a family favorite dish and also quite fun to make it at home.
Ingredients:
Turkey breast – 6 lbs.
Brown sugar – ½ cup
Salt – 1 Tbsp.
Pepper – 1 Tsp.
Cumin – 1 Tsp.
Cayenne – 1 Tsp.
Paprika – ½ tsp.
Apple juice – for spritzing
Maple syrup – 1/3 cup
Bourbon – 2 Tbsp.
Steps to prepare:
Pre-heat your electric smoker at 220 degrees F along with your preferred wood chips.
Add paprika, brown sugar, cayenne, pepper, salt, and cumin into a bowl and whisk it thoroughly.
Take the turkey breast and pat it dry. You may do this using a towel. Once dried then go on to season it liberally with a gentle rub. Pat the rub well so that the breast stays in place.
Place the turkey breast in the smoker over the grate. The internal temperature of the electric smoker should be at 165 degrees.
Make sure to spritz with apple juice after every 30 minutes.
Remove the turkey breast meat from the smoker and ensure to cover it with aluminum foil to rest for some time.
Now take a pan and put it over low heat. Add the bourbon and maple syrup together and whisk it in the pan. Let it cook until the material becomes sticky and thick.
Now, brush the prepared sauce very gently over the turkey meat. Once done, then slice it and serve it.
Here, we will make you all set to prepare the delicious festive dish which would be ideal to serve a large number of guests at your home, especially on Thanksgiving. However, the delicious taste would tempt you to try this dish much often. Trust us.
Ingredients:
Turkey – 1 lbs.
Olive oil
Peppercorn – to taste
Kosher salt – to taste
Stuffing – Store bought/ homemade
Water – 2 gallon
Chicken stock – 1 gallon
Sugar – 1 cup
Bay leaves – 2
Rosemary, thyme sprigs, and Sage – Handful
Garlic cloves – 1 head
Apple Cider – 3 cups
Apple jelly – ½ cup
Maple syrup – ½ cup
Bourbon – 3 Tbsp.
Dijon mustard – 2 Tbsp.
Garlic Powder – 2 pinches
Steps to prepare:
Take a large size stock pot. Stuff it with chicken stock, water, sugar, bay leaves, thyme sprigs, sage, rosemary, peppercorns and the garlic cloves. Bring all this seasonal brine to the boiling point. Make sure to stir the mixture intermittently, until you discover that the sugar and salt have dissolved thoroughly.
Now, submerge the entire Turkey bird into the liquid.
Cover the pot with a solid lid and refrigerate it for a period of 24 to 48 hours.
At least 5 hours prior to actual cooking, remove Turkey from its brine and discard the leftover brine. Turkey should then be thoroughly rinsed and pat dries it, using a towel.
Season every part of the bird to taste with peppercorn, salt, and olive oil. Wrap it with plastic and keep it at room temperature to rest for some time.
In the meantime, make the apple cider glaze with the help of combining all the ingredients, such as apple cider, apple jelly, maple syrup, bourbon, Dijon mustard, garlic powder and kosher salt in a frying pan kept over medium heat. Make sure to stir the mixture intermittently. Set the mixture aside to let it cool, once done.
Add the condensed liquid into a spray bottle.
Preheat your electric smoker at high temperature.
Free the bird from its plastic wrapping and set it in the smoker in an upright sitting position.
The bird should be cooked, until you find the internal temperature of the electric smoker to drop till 160 degrees F. During the cooking time, do ensure to spray the bird intermittently with the spiced apple cider glaze.
Remove Turkey from the smoker and spray it one more time with the apple cider glaze and wrap it loosely with tin foil.
Rest cooked Turkey at room temperature for 30 minutes before serving. This will help to denature the proteins inside and reabsorb any juicy moisture.
Do cut the bird tableside.
Season it additionally as per your liking.
Pro tips:
In a Masterbuilt electric smoker, and in Charbroil electric smoker this recipe at an internal temperature of 165 degrees F takes 2.5 hours approximately to cook.
Hickory wood chips for whole Turkey recipe are best. If you are using small pieces of wood chips then do not soak it.
Smoked Sardines Recipe
Smoked Sardines
Sardines are usually found in cans and that is probably the best way you can get and enjoy this. It is more about the way of cooking which allows you to get it in the best possible taste and nothing here could beat the idea of smoking it. Let us find out how.
Ingredients:
Sardines – 20 to 30 pieces, fresh and gutted
Water – 4 cups
Kosher salt – ¼ cup
Honey – ¼ cup
Bay leaves – 4 to 5
Onion – 1, finely chopped or grated
Garlic – 2 cloves, smashed
Parsley – ½ cup, chopped
Chiles – 3 to 4 (optional)
Peppercorns – 2 Tbsp., cracked black
Steps to prepare:
Begin by washing the sardines. Ideally, you should split the sardines and the ribs and backbones should be removed. This is useful to remove in order to get the best taste but might be difficult to tackle that in the smoker. You might just skip this if not comfortable.
Prepare the brine by adding all the ingredients mentioned above, except sardines. Put it over medium heat and let it boil. Turn off the heat once done and stir it well. Cover the brine and place it at room temperature.
Once the brine gets cool then add the sardines into it and the container this time should be a large and a non-reactive covered one. A flat Tupperware might just be the best option. In case you find the brine to be insufficient then you can go for a second batch.
Now let the sardines soak in the refrigerator for 12 hours and make sure you do not soak it any longer or they might become too salty.
After 2 hours or so, take the sardines out of the mixture and discard any remaining brine. Rinse the sardines and pat dry them. You may dry them by putting on a rack in a breezy place or by turning on the fan, if available. This may take 30 mins to an hour. Remember to turn over the fish at least once during this process.
Preheat the electric smoker and place the sardines inside.
Add wood chips as per your liking. (See pro tip below).
Smoke sardines on the slow internal temperature of around 140 degrees F. This will allow the smoke to penetrate deep inside the fish.
Take out the sardines from the smoker and allow it to cool a bit at room temperature by placing on a rack.
You may eat the sardines right away or could even seal it in a plastic wrap and refrigerate it. It will be as good as the freshly cooked one even if you take out of the fridge after 2 or 3 weeks and heat it.
Pro tips:
You may trust the Bradley or the Charbroil electric smoker to smoke sardines. However, the best tip is to always cook sardines at low temperature and allow it 4 to 5 hours to cook with an internal temperature of 140 degrees F.
The wood chips used here could be the hickory, maple or apple But, be sure, never to use the pine wood chip to smoke sardines.
Smoked Brisket Recipe
This is probably the best thing that you could do with a beef brisket. It is delicious and something that will suit the taste of the entire family and has the potential of becoming a repeated item once in while in your monthly menu.
Ingredients:
Beef brisket – 10 lbs.
Paprika – ¼ cup
White sugar – ¼ cup
Chili powder – ¼ cup
Ground Cumin – ¼ cup
Cayenne pepper – ¼ cup
Brown sugar – ¼ cup
Garlic powder – ¼ cup
Onion powder – ¼ cup
Kosher salt – ¼ cup
Black pepper – ¼ cup, freshly cracked
Wood chips
Steps to prepare:
Soak your preferred wood chips in a water bowl for nearly 8 hours or so.
Take a bowl and add brown sugar, white sugar, garlic powder, cayenne pepper, cumin, chili powder, black pepper, salt and onion powder. Mix them thoroughly.
Rub the prepared mixture over the entire beef brisket and then refrigerate it for 2 hours.
Preheat the electric smoker at a temperature of 220 to 230 degrees F.
Drain the wood chips and place them inside the smoker.
Now let the brisket smoke inside the electric smoker for 12 hours or so.
Once done then wrap the beef brisket firmly inside the butcher paper and return back to your electric smoker.
Smoke it for another hour or so until the internal temperature of 185 degrees F is reached.
Pro tips:
Oak or the Pecan wood chips are considered to be the best for smoked beef brisket.
In the Smokin Tex electric smoker, the recipe takes about 12 hours to cook with an internal smoker temperature of 165 degrees F.
Smoked Duck Recipe
Smoked Duck Breast
When it is the duck meat to try then go with this tried and tested recipe of duck breast with mouth-watering sauce. You would definitely love the taste along with the ease in cooking this dish. If you doubt then you must try it to prove us wrong.
Ingredients:
Boneless duck breast – 4 x 8 ounces each
Kosher salt – 2 Tbsp.
Chinese 5-spice powder – 1 Tbsp.
Black pepper – 1 Tbsp.
Sesame oil – 2 Tbsp.
Cherry salsa – for serving
Steps to prepare:
Trim tendons off the bird, if any, by using a sharp knife. Score the skin over all the breast pieces as if making a diamond pattern of about ¼ inches deep. Make sure that you do not nick the flesh while doing so.
Take a bowl and add sugar, salt, pepper and 5-spice powder and stir it to mix it well.
Sprinkle and rub the mixture on either side of the breast.
Drizzle the duck breast with the sesame oil and turn it to coat it at both sides of the breast.
Set up the smoker and preheat it to 150 degrees. It is also fine if the temperature of your electric smoker drops any lower than that.
Now arrange the duck breasts inside the electric smoker with their skin side up. Smoke them for 1 hour or until you notice the internal temperature of the duck breasts has reached 100 degrees or so. You can use an instant-read meat thermometer for checking that.
The second part of this cooking is that you need to grill the breast as well and you need to prepare the grill by preheating it at 450 degrees.
Make sure to brush and also oil the grill grate.
Place the duck breasts over the grill with their skin side down. Grill them until you see the skin of the breast getting nicely brown and it starts to render all its fat. The internal temperature of the breast when reaches 13 or 135 means that the breast is ready to be taken off the grill.
Put the breast pieces over the chopping board and wait for 3 minutes. Then, slice the duck breast pieces in a diagonal and serve it with your favorite Fresh Cherry Salsa.
Pro tips:
You can trust the Master Built electric smoker to cook this duck recipe within an hour. Grilling it would be a very quick job and wouldn't add much to the total cooking time.
Alder and oak wood chips are highly suitable and preferable to be used for a smoked duck breast recipe.
Smoked Tofu Recipe
Tofu just by itself might not be that tasty. But, it gets tastier when it absorbs multiple flavors added to it. Smoking is one flavor which makes it a mouth-watering and a really special treat for the entire family. Let us find the 'how' part of it.
Ingredients:
Tofu – 1 – 16-ounce blocks
Soy sauce – ¼ cup
Zip top bag – 1 gallon
Cooking spray – for the grill rack
Steps to prepare:
Take each block of tofu and cut it into 2 pieces by knifing it in 2 halves down the side. Place tofu in a plate and then place another plate over it.
Place something like a can or similar in weight over the top plate in order to press the tofu a bit.
Press tofu for half an hour in order to drain out all the moisture that it has.
Combine tofu and the soy sauce into a zip top bag. You may also use tamari instead of soy sauce if gluten-free is your preference.
Marinade the mixture well and until the sauce has been absorbed by tofu. Keep this for 45 minutes or so.
Preheat your smoker. Also, spray the rack of the grill with the cooking spray in order to prevent the tofu from sticking.
Smoke tofu at a temperature of 225 degrees F or until you notice the tofu getting golden brown.
Remove it from the grill and serve it.
Pro tips:
A Weber smoker takes about 9 minutes to smoke tofu at a temperature of 225 degrees F.
The best wood chips to be used for Tofu is Hickory BBQ wood chips.
You may vacuum seal the tofu pieces into different bags with one piece each. They stay afresh when refrigerated that way for 3 months.
Smoked Vegetable Recipes
Brussels sprouts best benefit to taste when they are smoked in an electric smoker along with the most preferable wood chips. They need to hold well to the moisture or otherwise, they may become too tough to eat. This is easy to make with a very basic recipe and taste outstandingly well.
Ingredients:
Brussels sprouts – 1 ½ lbs.
Garlic – 2 cloves, minced
Olive oil – 2 Tbsp.
Black pepper – to taste
Kosher salt – to taste
Steps to prepare:
Begin by rinsing the Brussels sprouts under cold water and allow it to drain well.
Trim the bottom of the sprout and remove any unwanted outer leaves which are usually discolored.
Now put the sprouts in a bowl and apply olive oil over it. Add salt, pepper, and garlic into it and mix well.
Now transfer the mixture into a foil pan.
Preheat your electric smoker and smoke the sprout at 250 degrees
Check the sprout and they are ready once you find them to be fork tender.
Pro tips:
In a Master Built electric smoker, the mentioned sprout recipe takes about 45 minutes to cook at a temperature of 250 degrees F.
The recipe does even better when complemented with maple wood chip.
The cutest of all the vegetables get even cuter and tastier when smoked with the best wood chips.These cherry tomatoes tend to burst open when smoked and release excellent juicy taste. This item is Best to enjoy when coupled with other salads, pasta or sauces.
Ingredients:
Cherry tomatoes – 2 pints
Water
Wood chips
Steps to prepare:
Preheat your electric smoker to a temperature of 225 degrees F.
Place a bowl inside and fill it halfway with water.
The wood chips should be added into the side tray.
Rinse the cherry tomatoes with cool running water.
Allow it to dry well. You can do this by using a paper
Place the dry cherry tomatoes into a single layer inside the electric smoker in a pan and smoke it.
You may add more water and also some more wood chips after 30 minutes to an hour.
Pro tips:
A Charbroil electric smoker takes about 45 minutes to cook at a temperature of 225 degrees F.
Maple wood chips are considered to be best for smoked cherry tomato recipe.
Smoked Vegetable Recipe
Hot and Sweet Smoked Nuts
Recipe by Food Network

This is probably the best thing you could do for your health and taste buds, especially in the winter season. Nuts are known to smoke pretty well as compared to any other eatable item that is smoked. It is a quick recipe to smoke and you can try that very often and without too much of an effort.
Ingredients:
Olive oil/ Melted butter – 3 tbsp.
Honey – 3 Tbsp.
Sugar – 1 Tbsp.
Seasoning salt – 2 ½ tsp.
Chipotle pepper powder – ½ tsp.
Red pepper flakes – ½ tsp., crushed
Whole natural almonds – 2 ½ cup
Steps to prepare:
Take a bowl and add honey, melted butter/ olive oil, sugar and the seasoning. Mix well and ensure that no lumps are found in the mixture. The end result would be a thick and a very sticky mixture.
Now, add nuts to the mixture and mix thoroughly.
Put nuts over one-half of the 12 inches heavy duty foil sheet in a single layer. Fold it, making an envelope and pierce it carefully using a knife that makes 3 slits.
Put the envelope in the top rack of your electric smoker and close it.
Smoke the mixture at a temperature of 230 degrees F. after preheating the electric smoker.
Pro tips:
In the Cookshack electric smoker, the mentioned nuts recipe takes 20 minutes to cook at the given temperature above.
Maple wood chips with nuts are highly preferable.
Smoked Beef Recipe
Smoked Spicy Meatloaf
Recipe by LJNew

The pure masterfulness of some great taste is just 2 hand a half hour or so away from you. All you need to have is an electric smoker, the best wood chips and all the ingredients given below:
Ingredients:
Beef – 3 pounds, grounded
Cooking spray
Tomatoes – 1 can (10 ounces), diced
Eggs – 3 pieces
White onion – 1 piece, chopped
Panko bread crumbs – ½ cup
Seasoned salt – 2 Tbsp.
Black pepper – 2 Tbsp., grounded
Hot banana peppers – 2, diced
Pink salt – 2 tsp.
Smoked paprika – 2 tsp.
Liquid smoke flavoring – 2 tsp.
Ketchup – ½ cup
Tomato chili sauce – ¼ cup
White sugar – ¼ cup
Hot pepper sauce – 2 tsp.
Worcestershire sauce – 2 tsp.
Salt – 1 tsp.
Red chili pepper – 1 tsp.
Red pepper flakes – 1 tsp.
Garlic salt – 2 tsp.
Steps to prepare:
Preheat the electric smoker at a temperature of 225 degrees F.
Spray the cooking spray in order to grease the frying pan.
Add beef, eggs, diced tomatoes, panko bread crumbs, onion, pink salt, 2 tsp. black pepper, seasoned salt, hot banana peppers, paprika, liquid smoke flavoring and garlic salt in a large size bowl.
Mix the entire ingredients added in the bowl with your hands.
Pack the mixture into the loaf pan that is prepared.
Smoke the beef meatloaf inside the electric smoker at a temperature of 225 degrees F.
Add your preferred wood chips which are suitable for beef into the drip tray.
Add sugar, ketchup, 1 Tbsp. pepper, chili sauce, Worcestershire sauce, red chili pepper, salt and the red pepper flakes into a bowl and mix well to prepare the sauce.
Make sure to drain out any excess grease from the beef and then spread the prepared sauce over its top. Smoke it again for 30 minutes and cook until the internal temperature of the beef reaches 160 degrees F.
Pro tips:
In the Smokin Tex electric smoker, the recipe takes 2.5 hours in total to cook.
Oakwood chip is a unanimous choice for many beef lovers. However, mesquite wood chips can also be used to get some intense flavor out of the meat.
Smoked Beef Pastrami
Recipe by Traegergrills

Cooking this recipe might be a time-consuming job but right after one bite of this smoked beef, you would definitely say that it is worth the wait. You will definitely love it and would also try it much regularly all through the year.
Ingredients:
Beef brisket – 7 lbs., first cut, fat layered, 1/3 inch trimmed
Water – 6 quarts
Kosher salt – 1 ½ cup
Granulated sugar – ¾ cup
Light brown sugar – 2/3 cup
Pink salt – 3 Tbsp.
Pickling spice – 1 Tbsp.
Yellow mustard seeds – 1 Tbsp.
Garlic – 8 cloves, crushed
Black peppercorns – ¼ cup, whole
Coriander seeds – 2 Tbsp.
Steps to prepare:
Take a large bowl and add water and kosher salt, pink salt, granulated and brown sugar, mustard seeds, pickling spice and garlic into it.
Cook the mixture over medium heat and make sure to stir it occasionally, until you see that the sugar and salt have properly dissolved.
Now, pour the brine into another bowl and allow it to cool for some time. Refrigerate it until it is chilled.
Take the metal skewer and make holes at different parts of the brisket.
Transfer the brine into a roasting pan of large size.
Add the brisket into it and cover it with a plastic wrap.
Rest the brisket for 5 days and ensure to turn it once every day.
Take the brisket out of the brine and dry it with a towel. Put the brisket with its fat side facing upwards over a rack set over a rimmed sheet for baking. Refrigerate it for 24 hours, without covering.
Take it out of the fridge and keep it outside to bring it at room temperature.
Preheat the electric smoker at 225 degrees F. with its lid closed. This will take 10 to 15 minutes.
Grind the peppercorns in a spice grinder along with the coriander seeds.
Cover the major fat side of the beef with the mixture of peppercorn-coriander.
Place the beef with its spiced side upright in the center.
Smoke it until the temperature of brisket reaches at 160 degrees F. which may take 3 to 4 hours.
Remove from the smoker and wrap it up in the foil and ensure to seal it very well.
Place it again in the smoker and cook for another 3 hours or so or when you see the internal temperature of the brisket rising to 204 degrees F.
Take it out of the grill and make the brisket rest in foil for half an hour before you slice it to serve it.
You may also go for cold pastrami and for that, you should allow it to cool completely. You may refrigerate the brisket until it gets completely chilled and could slice it then.
Pro tips:
After 5 days of storage wait, this smoked meat recipe takes about 7 hours to cook in the Cookshack electric smoker at a temperature of 225 degrees F.
Oaks can be your best bet for the wood chips to be used for smoking.
This is an extensive guide covering all types of meats that you could try to smoke and make the most of your special meals with your special ones.

All the recipes have earned positive feedbacks both from the experts and the people who have actually tried these recipes at home.

The expert advice given about the specific electric smoker to use a particular recipe further adds to the value of the information given and would keep you well away from guessing the time taken for smoking a particular recipe and how much temperature in the electric smoker to ensure.

On top of that, there is also another advantage, where our experts have facilitated you with the best wood chips to be used for smoking for a specific recipe you are trying.

Wood chips preferences vary considerably between meats of different types and also when smoking vegetables or nuts.