When it comes to making grilling and cooking smoking food easy and convenient then there is no better option than Natural Gas Smokers to consider. They can help you ease the process of smoking and grilling your food.
These Natural Gas Smokers are known to be affordable smokers which can provide you with the best taste experience of smoked and grilled food. With that, the capacity of these smokers is enormous as if you can smoke all the meat at once while they also do not cover much space on your deck or porch.
Here in this article, we have decided to provide you with a full guide on Natural Gas Smokers and we have cared to mention some recommendations for you to choose in case you are intrigued by the product.
Here we are going to discuss the working process and we are going to share some pros and cons of Natural Gas Smokers. With that, there are some recommendations of the best Gas Smokers that you can buy right now.
Other than that, we have also cared to mention some intriguing topics that will be of interest so make sure you read this guide to understand Natural Gas Smokers with a better perception.
How Natural Gas Smokers Work?
Unlike their sibling Electric smoker, the design of Natural Gas Smokers is rather simple and convenient.
The difference between an electric and a gas smoker is there is always a gas burner situated at the bottom of the smoker which is connected to a gas supply either it can be a propane tank or any other fuel gas supply.
The famous among these gas smokers are the cabinet styled Natural Gas Smokers. Yes! There is a separate fan base we could call it who prefer such type of Gas Smokers.
What is unique about them is that it stacks your food in a verticle position thus it is hanged above the water pan, wood pan, and the gas burner.
That's why you might've heard some people label them as "Verticle Smokers".
And no the process does not end here I haven't explained anything about how does a Natural Gas Smoker works. Here is a detailed explanation of how does it works.
How does it work?
To provide heat there is a burner that is situated at the bottom of the smoker of which we have talked about previously. That burner is either made of brass or cast aluminium, this makes that burner durable and extremely versatile when it comes to the healing process.
Above that burner, there is a shelf that holds or accommodate's wood to burn and provide heat. Above that shelf pan, you can see another shelf pan that accommodates a water pan.
And when you move forward or I should rather say upward then you will see more additional shelves to accommodate the food or meat to smoke. And directly coming towards the bottom then you might see vents which are not adjustable as they supply the oxygen to the gas thus providing heat.
Now: coming to the top of the smoker you can notice a chimney or one or two dampers to exert the soot produced by the smoker. So, in the case to prevent the collection of soot on your meat you should keep or leave the top vent open all the time while the smoker is at work.
When a review was conducted then most of the users preferred a Natural Gas Smoker that has two openings or doors. One provides access to the fire and wood pan that helps you easily enhance the flame or increase the firewood.
And another one is to provide you access to the top chamber that allows you to insert food that you want to smoke. This layout makes a natural gas smoker convenient and makes your troubling easy.
For who Natural Gas Smokers are Best For?
Natural Gas Smokers are invented for those types of people who are looking for work efficiency and convenience in roasting their meat for affordable pricing.
With a proper and well-equipped natural gas smoker, you can have the food of your dreams and time that you won't regret spending. They are efficient in roasting and making that time memorable.
There are various perks for having a Natural Gas Smoker starting g with you can have delicious and jaw-dropping food.
If you are tired of charcoal yes we understand your pain because the function of roasting charcoal takes relatively more time than a gas smoker. So, if you want to upgrade yourself to a Gas Smoker then that is not a bad idea because it can save you a ton of time for roasting your meat.
Similarly, they can be compared to electric smokers as they have similar configurations between them.
Thus they are more advantageous than an Electric Smoker as you can have some perks of having a Natural Gas Smoker.
For Whom this Gas Smoker is for?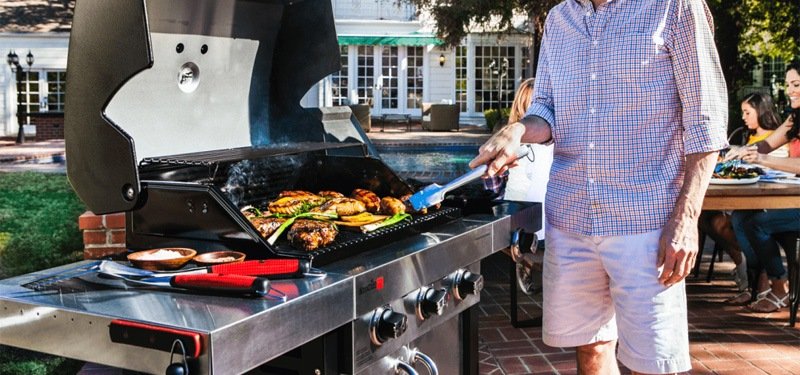 Now: let's discuss for whom this product is made. I know the feeling when you feel that you should go old school and feel more primal and relate to your tribal ancestors. There is nothing bad with opting for woods or charcoal to have a roasting night.
But you will rethink your decision when it is middle of the night and either of them is not yet flamed up. Relatively when you use wood or charcoal as a burning source then set it and forget it is the philosophy that you should follow.
But what is with your sanity waiting whole night lighting up your fire source? You might want to question your sanity and rethink your decision.
And to rethink your decision you should think about spending a few more bucks and get a Natural Gas Smoker that can provide you not only the food you desire but you can be relieved from the stress and have a good-night sleep.
Natural gas is being used as a source of fuel for a long time and it has been supplied to each and every place nowadays.
So whats the mishap in this. You can easily get it right now and there are some recommendations mentioned in this article to support this theory. And the best option among them is to get a verticle Natural Gas Smoker to further ease your pain.
With these Gas Smokers, you can have the time of your life and they are worth your money as the service they provide is exceptional. Either you are an experienced smoker or new to this game they will stand side by side to your decisions in roasting and smoking.
Now: coming back to your decision to go old school and primal yes you can get a charcoal grill that suits your style but they can be extremely time-consuming. And you won't even get control over the temperature.
This is when you decide to get a cheap charcoal grill. But if you consider taking a Kamado-style ceramic charcoal grill then you can have it all the time saving, temperature control, and much more but when compared with a cheap Gas Smoker it is the best.
The downside is that it can be expensive and can't be affordable for most of the people that why they opt for Natural Gas Smokers as they are cheap and provide you with full features that you need.
And the gas smoker comes handy when you are fed up with smoking and you have some experience in smoking than having an additional smoker in your porch would not harm you as it will only add-up in convenience and efficiency.
What I want to say is that? This type of smokers can be the perfect second option for you to have if you want to have some time smoking and want to eat a perfectly smoked meal. 
Recommendations for Natural Gas Smokers!
Here are some recommendations for you and every recommendation has been categorized so that you can decide easily.
01- Best Overall:
This redesigned propane natural gas smoker has been the best for a time and this has received some positive reviews from different users. It is made by Masterbuilt and they have provided you with some new and latest features to compete with new competitors.
The best feature that you get in this Natural Gas Smoker is the thermostatic temperature control that provides you with a wide range of versatility in controlling the temperature.
Because of this feature, you will be aided with the accurate temperature management feature that allows you to have a static and controlled temperature for your food.
As this thermostatic temperature control lets the heat flow through the gas burner and eventually provides you with much better control on the temperature that you want to maintain.
This ThermoTemp XL MPS 340/G provides you with four chrome-coated racks that directly enhances the durability of this Gas Smoker. Other than that, this can be perfect for cooking or smoking a large amount of food as the capacity of storing food is 792 square inches.
The thing is that when you are browsing for Thermotemp smokers then there you will see a smaller variant of 330/G and I know that will save you a little bit of money.
But for better user experience we would recommend you to get the XL variant as it can pack full house ribs and Briskets if you want to go there. But the smaller one doesn't compromise on the features it just compromises on the size. 
What we like:
There is a Thermostatic control for better control of temperature.

You can easily connect any gas tank and there is a fuel gauge.

In this, there is two-door access.
02- Runner Up:
If you are wondering that Masterbuilt is not suitable for you according to the pricing then you should consider this option from Dyna-Glo as this offers you a feasible set of features that comes in lower yet affordable pricing. 
Though the capacity for storing the food is less than Masterbuilt as it provides you with 784 square inches of storing capacity.
But in this Gas Smoker, you are getting 4 adjustable racks that are made of steel wire thus this is durable and affordable.
With the help of a dual door system, you can easily access either the cooking chamber or the firewood chamber separately without disturbing the other. 
Coming to the temperature controller that is the thermostat. It is relatively similar to the Masterbuilt Gas Smoker coming in at 15,000 BTU. Plus, you are getting an electronic ignitor, a control dial with many more features that resembles the Masterbuilt Gas Smoker.
What we like:
There is a sufficiently large smoker box.

You will get a water dish and a chip tray that is easy to access.
03- Budget Gas Smoker:
When it comes to trust then you might have heard Cuisinart name in other Kitchen appliances manufacturing. As far as that statement goes, you would be surprised to know that they also are well-known for selling the best and budget Gas Smoker in the market. 
Yes! I'm talking about COS-244 Vertical Gas Smoker that has won most of the hearts when it comes to budget then this has won the hearts as it is providing features that are premium at an affordable price range.
With the 14x 14" of stainless steel grill racks that are removable and you are also getting a 784 square inches of storing space to cook large amounts of food at once. 
Coming towards the design element then the design is to be considered as the standard design layout that every vertical Gas Smoker provides with two separate doors to access to different compartments and because of that, you can easily add water and wood chips according to need while you are cooking.
Unlike the others that we have mentioned this Budget-Friendly Gas Smoker offers you with 3-years of warranty. 
What we like:
You are getting quality and premium built quality and materials.

The assembly requirement is simple and easy.

Doors are tightly sealed and shut to preserve the essence of smoking.
04- Portable Gas Smoker:
When it comes to portability factor up till now you didn't saw any of the Gas Smokers that we have mentioned as a portable. Why? Because there aren't many options when it comes to portable Gas Smokers.
As far as the portability matters this feature is useful when you love to travel and want to take smoking on the go such as campsites, tailgate and much more fun outdoor activity. 
Though the capacity is small compared to any other Gas Smoker that we have mentioned but don't forget that this is a portable Gas Smoker and what do you except with this.
As it is provided by Masterbuilt and now you know that you are not compromising on features, and quality you are just compromising on the storage capacity but Masterbuilt clai9m that you can easily fit 4 large chickens other than that, you can also fir two racks filled with ribs. What else do you want? A deer-sized cooking space.
As the claim says that you can fit full-sized ribs in two racks. That is a point but the racks are narrow thus you have to cut down the ribs to make them the size to fit. 
And with that, you need to get your own 1LB gas cylinder. Though with that, you can also get a hose connector that can connect a cylinder up to 20LB.
What we like:
It has a compact and portable size.

The legs are foldable.

The temperature control is well managed.
05- Large Gas Smoker:
Now: it's time for us to discuss large Gas Smoker. And here we are not going to consider the portability or the budget factor.
It is purely large though it can be expensive this is perfect for those who are looking for a large gas Smoker and don't care about pricing or portability.
With this Gas Smoker, you are getting huge 7 cubic feet of cooking capacity. And other than that, there is a 44" of verticle Gas Smoker.
With the aid of 5 removable racks, you can get as much versatility as you want and with that, you can smoke huge quantities of food at once with the help of 5 removable racks.
As the size is large thus the consumption of gas is also in large quantity. So, if you have a small gathering in your porch and you are not smoking for a large group of people This unit does drink a fair amount of propane though, so if you are only going to be smoking the occasional pork butt and don't need to feed a large group you should probably consider another option.
There are two burners included in case you require more and higher temperatures. But if you want a low-temperature setting then you use a single burner to maintain a low temperature of 125°F.
When it comes to built quality and construction then it can be called pretty heavy and durable. Though the doors are thin-sided this is counted as a standard in vertical gas Smokers.
What we like:
It has a solid construction.

It offers a large food cooking space.

There is a dual-chip tray for convenience.
A Complete Buying Guide for Natural Gas Smoker!
This buying guide will help you determine which Natural Gas Smoker is perfect and ideal for you. But there is not much to talk about them most of the features are resembling one another thus there are no distinct features to call for.
Though here are some key features to look for when you are buying a Natural Gas Smoker.
Two Doors Gas Smokers:
Up till now, we have only mentioned two doors Gas Smokers. But there are some Gas Smokers that offer you single way access to the cooking chamber and fire chamber.
That can be good, but when it comes to dual doors then it can be both convenient and easy. You can separately access to different chambers.
As if you want to enter the fire chamber to add woodchips of water, then you will not be disturbing the cooking chamber and vice versa. See, it can be efficient when it comes to cooking ribs and chickens.
Check for Smoker Width:
Now width refers to the size of the smoker. And when it comes to the size of the smoker then you might want to consider your requirement for that.
If you need a large width Gas Smoker then you should consider buying that and if you need a more compact for a small gathering then you should get a compact width gas Smoker.
Either way, this category depends on your requirement. 
Built Quality and Construction:
Now: coming to the built quality this might vary from one unit to another. So, you need to be extra sure which Natural Gas Smoker you are getting.
Whe3n you buy a cheap-looking Gas Smoker then it is most probably made of thin metal sheets that will tear off quickly. But if you feel like the smoker is premium then the built quality must last for years.
On the other hand, most of the best Natural gas Smokers have aluminum cast burners and some low-quality Smokers provide you low-quality burners that will not help you provide the proper temperature. So, getting a premium built Natural Gas Smoker is necessary in any case.
Conclusion:
Here we have discussed every knits and bit of detail that there is to determine all the features and functions of a Natural Gas Smoker.
We have also provided you with recommendations that will help you determine even further to buy which SMoker is best for you.
With that, this is a wrap on this Natural Gas Smoker guide.