Pit Boss is a very well known brand from Phoenix, AZ and they are mostly focused on grill production. Their main products are wood pellet grills , pellet smoker and ceramic charcoal grills, but today I will focus mainly on their electric smokers.
I like the fact that they sponsor all kinds of nonprofit organizations which is something I haven't seen in other brands. I am not saying that others aren't doing it, but Pit Boss mentioned it on their website.
The Pit Boss electric smoker can easily be characterized as the true classic smoker. They are truly a work of art with their innovative design and their color pallet options. Every product is made with special care, not just electric smokers. The Pit Boss wanted to make an impact on their customers and their mission is accomplished by great quality and craftsmanship and unique designs of their products.
At A Glance:

Our Top 3 Pit Boss Electric Smoker Picks
Table could not be displayed.
They don't have many electric smokers on the market but they made electric smoker which is made for homes, simple to use and they look amazing. Pit Boss isn't afraid to use some colors in their products and I will show you that through Pit Boss smoker reviews below.
Pit Boss Electric Smoker Review – Analog blue
Pit Boss electric smoker is an attractive product which is easy to use and looks amazing. But, before we anus on the specifications, let's talk about the design because it is something else.
The steel cabinet has a special dark blue color with a shine which makes this smoker just for people with attitude. I like the fact that there are colorful smokers because most of them are in black or silver. You won't see that much blue electric smokers on the market.
The entire blue cabinet is made of double well-insulated materials so you can be sure that the smoke stays inside. Inside you will find 686 square inches of cooking space and 4 adjustable cooking racks which is more than enough cooking area to feed your family and friends.
The 1650-watt heating element is suitable for every type of food. You can try slow smoking or fast one if you are interested because this smoker can produce temperature from 100° – 350°F. I have already mentioned in the title that this smoker is analog which means you can read the temperature from the doors.
If you are smoking more delicate meat you can use analog meat probe to be sure that the smoking is going to the plan. All that you can observe through the large front window without opening it because the doors are covered in tempered glass. That option is great for beginners because they can see what is happening inside. If you aren't a beginner and you just want to watch the smoking process, get the glassed doors so you don't have to open them every 10 minutes. It will save the heat and the smoke inside the smoker.
Below the cooking space, you will see a big wood chip tray which you can use up to 2 hours before you have to change the chips. A good thing is the fact that you can fill the wood chip tray without opening the doors for easy loading because the tray has its own opening below the doors. The grease pan is big enough to sore all the excess made during smoking which makes cleaning easier.
The smoker is big so it has rear wheels and a comfortable handle for easier transportation of the smoker to the patio and back in the garage. This smoker is a very interesting smoker and I like the fact that it is in color blue. It is a refreshment in the sea of black and silver electric smokers.
I would recommend this smoker to people who aren't afraid to make a cookout for their friends and family because it is quite a big smoker. The price of the smoker is low, I would have expected it to be more which makes me think about the durability and the quality.
PROS:
Design
1650-watt heating element
Separated doors for front-load wood chip tray
All versions of Pit Boss
Blue Analog Electric Smoker
Pit Boss Analog Blue Electric Smoker 77320
This is the model I have reviewed above. It is a fancy blue smoker with 625 sq in of cooking space with 4 cooking grids. That smoker hs 1650-watt heating element which is great, but the size may be too big for an average family. If you want to cook for your family and friends than this smoker is great for you. But, if you want to cook just for your family, try the smaller model.
Pit Boss Analog Blue Electric Smoker 77220
This is the smaller model of the basic blue electric smoker from the detailed and the short Pit Boss reviews above. Even though it does say it is a smaller model on an elevated stand and still has a viewing window, it still has enough room to cook something large like a brisket. Inside you can find 593 square inches of cooking space with a 1500-watt heating element that can produce temperature from 150°F to 325° F. It is a pretty impressive temperature that will definitely suit the meals you make for your family. This smaller model may be better suited for you if you plan to cook for your family.

Pit Boss Electric Smoker Review – Digital silver
The Pit Boss made two kinds of electric smokers, the analog and the digital controller. The analog electric smoker is the one I have reviewed above and the digital electric smoker I am about to review. This Pit Boss electric smoker comes in silver color which is a big change.
But, let's talk about the specifications. This interesting digital electric smoker, with push-button control, is the same size as the analog black version I have reviewed. The interior has 791 square inches spread on 4 adjustable cooking grids and blanket insulation. The 1650-watt heating element can produce the internal temperature between 100°F – 400°F so you can smoke all types of meat inside.
When you look at the design you can see that it is actually pretty similar to the analog smoker. The digital control panel is located below the doors and you can easily set the temperature using control buttons. The meat probe is integrated and you can easily read the temperature on the screen.
The doors also have tempered glass so you can see what is happening in the smoker and below the doors is a wood chip drawer so you can easily add wood chip during the smoking if it is necessary.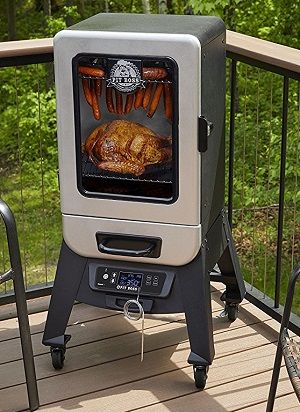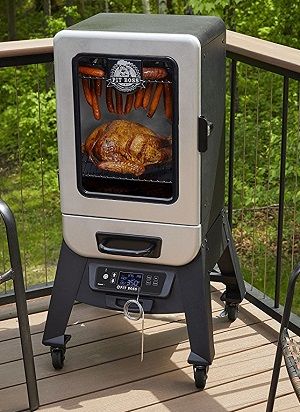 The entire smoker is very well made and it has few improvements regarding analog smoker. For example, this smoker has big wheels on all four legs which means you can transport it even more easily. Also, the temperature range is better for this smoker.
If you are more comfortable with the digital controls then this smoker might be the one for you because it has a good price to quality ratio. The price is also rather low to the smoker's specifications which makes me thinking about the real durability of the smoker but I am sure if you maintain your smoker properly it can last for ages.
This smoker fits into a bigger smokers category which makes it better for people who love to cook for larger groups. If you are more interested in smaller electric smokers than you may want to find something smaller. For example, there is a smaller version of this smoker and I will say a thing or two about it after this Pit Boss review.
PROS:
Good temperature range
1650-watt heating element
Much Space
Price
Digital control board
All versions of Pit Boss
Silver Digital Electric Smoker
Pit Boss Digital Silver Electric Smoker 77232
This is the basic model and you can read detailed Pit Boss reviews above and to make your choice easier I will mention few most important pieces of information here. This smoker has 791 square inches of cooking space spread on adjustable cooking grids. You can adjust the temperature between 100°F – 400°F which means you can cook every type of food.
Pit Boss Digital Silver Electric Smoker 77221
This is a smaller version of the vertical smoker above. The design is the same but everything is smaller. For example, you can fit 593 square inches of cooking space on the grids. The same 1650-watt heating element can produce the same temperature, which is pretty impressive. If you are more interested in cooking for smaller groups of people, like your family, then I would suggest you chose this smaller version of Pit Boss digital electric smoker.

Accessory and replacement parts
for Pit Boss electric smoker
Every electric smoker on the market has parts that can improve their performance or prolongate its life. The same story is with the Pit Boss electric smokers. I am surprised that they don't have replacement parts for their smokers, but I guess they are aware that there are more than enough good quality universal parts that their smokers can use.
The accessory is a different story. You can see that they want their customers satisfied because they made one of the most important features in preparing meat – thermometer. With their different types of thermometers, you can be sure that the meat inside the smoker is smoking properly.
But, they don't produce one of the most important accessories which can prolongate smoker's life and that is the smoker cover. If you have your smoker outside, that protective cover is a must have because the smoker is electrical.
BONUS TIPS:
There are other accessories you can use to improve your cooking skills or to improve the smoker's performance and if you are interested to know more about them,
visit my post about smoking accessories
. You will realize how many interesting features you can add to your smoker but be sure you have the right model by your side when you go search for accessories because they have to fit.
Conclusion: Pit Boss electric smoker reviews
It is obvious that Pit Boss smokers are mostly made for outdoor cooking at homes. They are simple, affordable and elegant. I am not sure about their durability, which is a potential disadvantage but their temperature control is pretty impressive. I like the fact that they are all very similar and you don't have to make a compromise. You can pick the same heating element, the same size, and the same glassed doors. The only thing you have to worry about is the controls, whether they are analog or digital. I would recommend this smoker to people who love to prepare meals for their families and friends and the colors of the smokers are a nice touch.
If you aren't impressed with this smoker or you want to choose a smoker for more reliable brand I suggest you check out my guide how to choose the smoker because not only you will learn what you need to know about smoker but you will see the list of best electric smokers separated in special categories so they can fit your needs. If you really love the Pit Boss brand and not ready to try out a smoker then check out Pit Boss grills for more product information if you are more comfortable grilling. You can also check out other pit boss grills and smokers found in the pit boss 2 series and the pit boss 3-series.