Need to try out smoking with pellets? Definitely you will need to look for the best pellet smokers to assist you better.
Smoking with pellets is different from that of smoking with propane and electric smokers with wood chips, though the process and its results may be the same with little variation in preparation of the food, texture and flavor.
How smoking with pellets work in pellet smokers?
A pellet smoker works like your wood pellet stove, but on an advanced level.  Mostly, pellet smokers use the heating process at a higher level to completely smoke your meals until its ready to eat.
There is an automatic heating system that makes use of small pellets to heat up and provide smoke and high temperature for your meat and other edibles for perfect smoked texture and taste.
At the end of the heating process, your favorite meat will retain that smoky flavor you crave for while giving it s golden brown texture and soft and juicy from the inside.
For some reasons, a lot of people love smoky flavor in food because it's certainly a unique one.  Apart from giving flavor and easy cooking options, pellet smokers are quite easy to setup and use.
The initial task for you is to set the right  temperature and add the required amount of pellets to the hopper. After that, the smoker will do the rest of the job.
This review is all about the pellet smokers you might find for preparing smoked food at home.  We have taken out time to provide details about the best on the market based on their special features.
If you're looking for the most ideal pellet smoker to buy, just hang on for a while and you will have an idea of which model to buy.
But let's begin with some important information on pellet smokers and the benefits of choosing them over others.
Why people need a pellet smoker for smoking with pellets?

There are several reasons why a pellet smoker will be the preferred choice for most foodies who want to try smoking with pellets. They have so many benefits and people won't stop using them.
Let's find out why pellet smokers are very important for those who love smoked food.
The Versatility
When it comes to the option of cooking different types of meals, no machine does it better than a pellet smoker.
Most quality models come with varying temperature degrees where users can smoke virtually any type of meat or meal including vegetables as well. From 180 to 500 degrees, you can actually prepare any smoked meal of your choice.
Ease of use
Of course, an electric smoker may be easier to use because of the absence of wood pellets, but most pellet smokers have simple designs. They have simple features anybody can easily relate with, no matter what their experience level is.  With the single-button startup in most pellet smokers, it makes it easy to operate.
Secondly, most pellet smokers come with temperature controls. So, it's easy to get the right temperature for any type of meal you are preparing.
Value for money
Although you may say these smokers are quite expensive compared to other types of smokers, the good thing is they provide good value for money.
Yes, the initial cost of purchase may be high, but these solidly designed smokers last for a very long time.
With a pellet smoker, you can enjoy smoky flavored meals for a very long time. Most are designed with heavy-duty steel that keeps them very durable even after heavy use.
Level of flavor
Actually, this is where a pellet smoker beats every other type of smokers. Most pellet smokers make use of 100% wood, which is certainly needed to give that smoky flavor. For those looking for more flavors in their smoked meats, a pellet smoker is the preferred option.
These benefits are certainly enough reasons for anyone to own a pellet smoker. They are versatile, easy to use and provide an exceptional level of flavor.
Pellet smoker vs gas smokers vs electric smoker
If you're new to the world of making smoked food, you may be wondering which smoker will be ideal for you. As a matter of fact- they all have their different characteristics and features.
Someone may like a particular smoker for certain reasons while another user may prefer a different smoker.
To help you decide which is best for you, let's see the difference between pellet, gas, and electric smokers.
Affordability
This is where gas grills and electric smokers may stand stronger. They have a wide range of options when it comes to price.  If you're on a limited budget, you can see gas grills or electric smokers that can serve you for a short purpose.
Yes, I said short purpose because you may need a smoker for a one-off camping trip or to make minor stuff. In this case, you can settle for a cheaper electric or gas grill since they will serve their purpose within the time being.
But the cheapest pellet smoker is still expensive in many ways. Also, there are so many other accessories you need to buy for the pellet smokers, which certainly adds to the overall cost.
Temperature Control
One of the hardest parts of cooking in a smoker is to effectively control the temperature. It can make a huge difference between having an overcooked meat or an under-cooked one. And when it comes to this feature, pellet scores a bit higher than gas.
The pellet smoker has a temperature knob (or button) where you can easily set the temperature you desire for the particular meal. In most cases, the temperature stays unchanged throughout the smoking process.
But for a gas smoker, you have to do a little bit of trial and error before knowing the right temperature. This is why new users should always choose a smoker with a better temperature control.  It will help them save both time and cost.
Ease of Use while smoking with pellets smoker

If we compare ease of use, we can surely say, the electric smokers are easiest to use because they can be switched on and are ready to use. Whereas pellet smokers, offset smokers as well as charcoal smokers and grills need lost of assistive elements, tools, and fuel options that complicate the process for sure.
Portability
This is where pellet smokers are better than electric smokers. Since an electric smoker can only be connected to electricity before they can be used, someone looking to cook outdoors or go for camping may prefer pellet smokers or gas smokers over electricity operated models.
Pellet smokers are more portable but their electricity counterpart is always stationed at a particular place.
Flavor
Unlike gas or electric smokers, professionals usually associate pellet smokers with flavor. Because of the pellet woods used in the smoker, they provide better smoky flavor than their gas counterpart.
Although, I must say, a lot of people don't like smoked meals. But if you love that smoky taste in your grilled food, a pellet smoker will be an ideal option.
Best pellet smokers for smoking with pellets you like the most

There are different types of pellet smokers on the market as they differ in size, material construction, and overall quality.
But we have taken the time to trim down your options to the 10 best pellet smokers based on their quality, usage and features.
If you're looking for the perfect pellet smokers and grills for your needs, these options below will do great for you.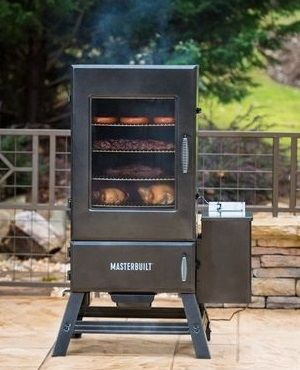 Our Rating: [star rating="4″ numeric="yes"]
Pit Boss is already a household name in the industry. This model is the ideal smoker for users who want to have total control of the cooking temperature, no matter what they are cooking. It comes with a meat probe and digital LED light that helps you effectively monitor internal temperature. Pit Boss has a complete programmable temperature range of 1500 to 4500, which is enough to smoke just about any type of meal. Whether you are looking to smoke meat or vegetables, the smoker will surely deliver.   It also comes with heat detector and porcelain protector for durability and long-lasting use. Interestingly, this Pit Boss model has 3-year product warranty. Try kicking it up a notch with some different smokey pellet flavors, such as apple wood, cherry wood or hickory and toss in a brisket into the cooker and see what happens!
Pros
Durable and strong design
Comes with digitally controlled probe
Adequate temperature range
Designed with LED light
3-year product warranty
Cons
Our Rating: [star rating="4.3″ numeric="yes"]
Here is another high-quality stainless steel grill with all the features to make smoking meat a lot of fun and providing the wood fire flavor you are seeking with your preferred fuel source.  It is very versatile for barbecue, braising, roasting, baking, smoking, and grilling. Z Grills also comes with a digitally controlled temperature probe and a cooking temperature of 180 to 4750. That's certainly enough to smoke any kind of meal you want.   It's a new model for the brand, but the smoker has enough steel design to give users value for money. If you're just starting out with grills, this model is perfect to groom you to become a pro. Its simplicity makes it stand out among several other options.
Pros
Very easy to use
Adequate temperature range
3 years warranty
Digital temperature control
Cons
Temperature levels fluctuate a bit
Our Rating: [star rating="4.2″ numeric="yes"]
Green Mountain has one of the most compact designs you will ever see. It's also the right choice for those looking to keep the right temperature range for their meals. Unlike some other models with fluctuating temperature, Green Mountain keeps a steady temperature throughout the cooking process.  Although it's a bit more expensive than many other models, the overall quality and simplicity make it a great bargain. The thermal sensor allows you to steadily monitor the temperature. Green Mountain has a new technology you may not see in other grills. It comes with Wi-Fi technology. This gives you the opportunity to control the temperature level at a very far distance. Overall, the smoker is certainly designed with quality in mind.  It's ideal for both novice and experienced grillers.
Pros
Wi-Fi enabled
Steady temperature level
Strong and solid design
Convenient and very portable
Cons
Our Rating: [star rating="3.6″ numeric="yes"]
Traeger is arguably the most popular grill brand in the market right now.  The smoker is made for aficionados and professionals looking to take their meat grilling skills to the next level. But Traeger is not all about style and aura.
The grill actually delivers when it comes to its primary purpose. If you're looking for the right grill to effectively smoke your favorite meals, this model is certainly the answer. Its features include digital controller, wide temperature range, and steady heat level. First-time grillers will also enjoy the simplicity of setting temperature for any type of meat.
With simple buttons, it will be easy to control the heat level when smoking meals. Traeger Elite is properly designed and can stand the test of time, even under heavy use. Traeger offers many different flavors that come in a 20 pound bag of natural hardwood pellets, such as Pecan and Mesquite.
Pros
Strong and durable design
Maintains appropriate heal levels
Can be used both indoors and outdoors
Wide temperature range
Ideal for both experienced and inexperienced users
Cons
Our Rating: [star rating="4.7″ numeric="yes"]
Camp Chef is the ideal smoker for those looking to grill for a whole family or for commercial purpose. It comes with an extensive cooking space that can hold up different sizes of meat. But that's not its only benefits. Just like other premium quality smokers, the Camp chef has a steady level of heat. It also provides different temperature level options for different types of meals.
The grill comes with LED temperature readouts to help users easily see temperature levels when cooking at night.  It also comes with an electronic auto start ignition. With this feature, you're not going to stress yourself over starting up the smoker. When it comes to convenience and ease of use, there may not be a better option than this portable smoker.
Pros
Large grilling area
Less expensive
Easy temp selection system
Comes with easy startup ignition
A wide range of temp levels
Cons
Ash removal pan is difficult to remove
Our Rating: [star rating="4″ numeric="yes"]
One great thing about Pit Boss flame broiler is the increased flavor you get from smoked meat.  If your major interest is in the smoky flavor of the meal, this grill will be great for you. It combines the simplicity of grills with the flavor of charcoal smokers.  This is because it makes use of only natural wood pellets for smoking. You don't need electricity or gas when using this smoker.
The pit Boss model is also versatile, as you can cook with a temperature range of between 180 to 500 degrees.  It means you can smoke virtually any type of meal on the grill. The LED readout helps you easily control and monitor the temperature.
With this smoker, you can never go wrong with your smoking task. Its cooking space is quite large as it accommodates different meat cuts. Overall, Pit Boss Flame Broiler is a high-quality smoker that gets the job done with simplicity.
Pros
Uses natural wood pellets
Versatile temperature range
Adds more flavor to the meal
Porcelain coated grid for easy clean up
Simple to set up and use
Cons
Starting up fire takes a longer time
More difficult to clean
Our Rating: [star rating="4.3″ numeric="yes"]
This is another premium quality model from the Z Grills brand.  It makes use of wood pellets for barbecue, braising, smoking, or grilling foods. It creates a versatile grilling environment and takes out any need for a rotisserie.
Z Grills ZPG has a large grilling area for different meat cuts. You can decide to smoke whole chicken or other meat cuts whenever you want. The mechanized electric feed system gives users control over the temperature of the food.
You will be able to set the right cooking temperature without bothering g about undercooking or overheating your meat. It also comes with 3-year warranty. That is nice as it shows the company has absolute trust in their product.  Other great features of the grill include waste oil collector, LED temp readout, digital temp control, and auto-start ignition.
Pros
Easy to use
Large grilling area
The automatic temperature control system
Versatile cooking options
Cons
A bit more difficult to setup
Our Rating: [star rating="4.1″ numeric="yes"]
Traeger has some of the most expensive grills in the market but their products are of the highest quality.  They didn't disappoint with this model too. If you want to go all out to get the best grillers to meet your food smoking needs, you will do well to consider this grill.
Although very portable, it has all the features to make your smoking tasks a very successful one. New users who are still learning how to grill will love the automatic temperature control system.
This gives them the confidence to use the right temperature when smoking their meals.  It's ideal for tailgating, camping, and even home use. And when it comes to cooking space, Traeger is accommodating enough.
Pros
Premium quality design
Automatic temperature control
Uses pure hardwood pellets
Portable and versatile use
Provides more smoky flavor
Cons
One of the most expensive
Inadequate setup instructions
Our Rating: [star rating="4.2″ numeric="yes"]
This is relatively new in the market, although people have already fallen in love with its convenient and simplistic features. The main goal of Green Mountain Crocket grill is to provide convenience when smoking your meat. One of the most talked about feature of the smoker is its Wi-Fi connectivity.
With this feature, you don't have to babysit the smoker.  Just set the required temperature and allow the smoker to do its job while you can still monitor from a distance. But Green Mountain is not all about Wi-Fi connectivity. The smoker comes with versatile temperature range for cooking different types of meals. Other notable features include water resistant cover, foldable legs, as well as portable design.
Pros
2-year product warranty
Wi-Fi connectivity
Portable and easy to move
Provides a versatile temperature range
Quite affordable
Cons
Our Rating: [star rating="5″ numeric="yes"]
Z Grills Elite has the reputation of being one of the few smokers that utilizes 100% wood pellets. It provides the best smoky flavor while ensuring that your smoking task is very convenient. With the automated smoking technology, all you need to do is set the right temperature and allow the smoker to complete the remaining task.
Z Grills Elite has versatile cooking temperature controls to braise, roast, sear, bake, smoke, or grill your favorite meals.  It has consistent temperature level, which lets you know exactly when your meat will be ready.  The smoker also comes with 3-year product warranty. Overall, Elite is well made to provide meat smoking satisfaction to both experienced and novice users.
Pros
Utilizes 100% pellet woods
Versatile cooking space
Automated cooking technology
3-year warranty
Cons
Features To Consider When Buying A Pellet Smoker
Before deciding on a particular pellet smoker to buy, there are certain things you need to consider. If some of the features listed below are not present in the model you are considering, you may have to research a bit more for the right one.
Quality Construction
Obviously, you would want something that can give you value for your money. As much as we know that pellet smokers are solidly designed, some models are not really up to the level they should be in terms of material and construction.
Here you need to physically examine the smoker. Find out if the lead closes well and check out the welding, hardware, and joint. The exterior should be designed with strong non-corrossive metal.
If you're buying online, research properly and find out specifications for the best quality pellet smokers.  Some brands are known to manufacture only high-quality models. So, you have to consider the brand too.
Temperature Range
The best pellet smokers should have versatile temperature range to enable you to to prepare any type of food.  Generally, a smoker with a temperature range of between 180 and 500 degrees is considered a good one.
But the ultimate choice will depend on what you will be smoking and the level of temperature you desire. Again, some pellet smokers have steadier heat levels.
It will be quite frustrating if the smoker keeps fluctuating and changing its temperature levels all the time. The best brands usually have constant and better temperature levels.
Size and cooking space
Obviously, this feature is all about your preference. If you're going to need the pellet smoker for outdoor and camping, it will be worthwhile to consider a portable pellet smoker for smoking with pellets of your choice.
Your lifestyle and cooking needs will determine the size of cooking space you prefer in a smoker.
Generally, the more portable they are the smaller their cooking space. So, you have to decide whether you prefer cooking space over portability or the other way around.
Other features
There are several other extra features you can find in pellet smokers.  Some have water resistant lids (which is great for outdoor activities) while others have Wi-Fi capabilities for convenience.
Before making your choice of pellet smoker and starting out to use smoking with pellets, you need to decide which features are most important to you and which ones you can do without.  Overall, it's essentially a matter of your preference and lifestyle.
How a pellet smoker work?
Smoking with pellets allow you to induce the perfect smoke flavor in your meals and allow for an array of flavors depending on the type of wood pellet you choose to use. Be sure to use food-grade pellets. The functionality of a pellet smoker is a unique one because it combines the smoky flavor of traditional smokers with the efficiency of grillers into one.
It has similar functioning methods as an oven.  You only need to fill the space with pellet woods and allow it to heat up before placing your meat in the cooking space.
The first thing you have to do is fill up the firebox or hopper with wood pellets.  With the digital controller, you can set the cook temperature and time.
Most new pellet smokers have a startup ignition where you can hold onto them for some time to ignite the fire.
With the cook time and temperature you've specified in the digital control, the pellets will then be moved through the grill in a controlled process.
The auger rotates the pellets and places them in the firebox as they burn and heat intensifies. A fan inside the pellet's grill circulates the smoke and heat to cover every section of the cooking space.
This process continues with the preset cooking temperature until the smoker reaches the cooking time.  Some pellet smokers even alert you through their LED display when the pellets are running empty in the hopper.  Once the smoker reaches the cook time, it alerts you again that the smoking task is complete.
Smoking with a pellet smoker has never been easier. As long as you keep the right number of pellets in the hopper, your meat will continue to receive the desired heat until they are fully smoked.
Conclusion
Latest smoking technology has brought simplicity and convenience to the kitchen. With pellet smokers, you don't have to worry about burning your food as you can set the cooking temperature on automation. All you need to do is ensure there are enough pellets to completely cook the food. The smoker does the entire job and lets you know when your meat is ready.
If you're looking to buy a smoker for your food smoking needs, there are lots of options available. The above-reviewed products have already made their mark in the industry as the best models available. They share similar features and are highly recommended to both experienced and novice grillers and smoked food enthusiasts.
Smoking with pellets surely offer greater options to induce smoked flavor and prepare the traditional tasting smoked meat recipes at home. Just practice and try a variety of different selection of the best wood pellets your heart desires and you will be a bbq pitmaster in no time!