In the past few years, I've reviewed dozens of electric smokers by manufacturers such as Masterbuilt, Char-Broil, Bradley, Pit Boss and more.
I've also reviewed many different types of electric smokers including Analog, Digital, Bluetooth, Indoor, Large, Small smokers and more.
As a result of my research, I've made a Top 10 list of electric smokers which includes the best electric smoker of each type and a comprehensive buying guide complete with recipes.
At A Glance:

Our Top Electric Smoker Picks For 2019
Top 10 Electric Smokers By Type
Best Analog Smoker – Char-Broil Analog Smoker
The perk of having an analog smoker is that it is simple and easy to use. It has minimal electronics in the system which means that it is practically unbreakable. I choose Char-Broil electric smoker because it has good performance and it really gets the job done. There are not many surprises in the design because it looks like other analog electric smokers. It has the 1500-watt heating element which is more than enough for 505 square inches of cooking area so you can expect great smoking ability. If you are interested in learning more about the best analog electric smoker read the full review in the Char-Broil electric smoker post.

Best Portable Smoker – Masterbuilt Portable
There aren't that many portable electric smokers on the market and the competition is fierce but the Masterbuilt portable smoker won after all. This small but strong electric smoker has a 1400-watt heating element and 280 square inches of cooking area. What makes it great are the foldable legs you can spread during smoking and fold when it is time to go home after a great field trip. It is an analog smoker which is a far better solution for a portable smoker than digital Bluetooth or smart smoker. If you want to find out more about the portable smoker, you can read it in the full post about Masterbuilt electric smokers.

Best Small Smoker – Little Chief Electric Smoker
Little Chief is a classic and I would feel bad if I have put any other smoker on top in this category. It has that design for ages and it hasn't changed because it is a good design. The Little Chief is made for slow smoking and that is why it has an only 250-watt heating element, but the meat you make in it ends up very juicy and tender. You can choose a front or top load for this smoker which can really come handy from time to time and if you want to hear more about it, visit Smokehouse Products electric smokers.

Best Large Smoker – Cajun Injector XL Electric Smoker
What makes this Cajun Injector large smoker so popular is its shape and size. It has double doors so you can easily fill it with as much meat as you can. The window on the doors gives you complete control over what is happening in the Cajun Injector electric smoker and tempered glass endures the high cooking temperature this electric smoker can produce. As you can see you will get has 2 cooking racks, 2 jerky racks and 1 rack for sausages. Everything else you can buy separately.
Best Electric Digital Smoker – Bradley Digital Smoker
Bradley is a brand that produces a lot of smokers and I have picked one that is the best in my opinion. This smoker has 572 square inches of cooking space spread on 4 smoking racks. The temperature and the time meant for smoking is set on the digital control panel on the side of the smoker where you can control two heating elements because Bradley has then two. It has also two purposes, it can be a smoker and an oven. Every Bradley electric smoker has a special self-feeding system for bisquettes and if you want to read more about it, read my Bradley electric smoker post.

Best Bluetooth Smoker – Masterbuilt Bluetooth Electric Smoker
An electric smoker for families can have Bluetooth option and a great example for that is the Masterbuilt Bluetooth smoker. It has 721 square inches of cooking space which is more than enough for you and your family with the 800-watt heating element. That is room enough to fit about 6 chicken. The Bluetooth on the digital control panel will offer you the possibility to set the time and the temperature with your smartphone so you don't miss hanging out with your family because you don't have to be near the smoker. If you would like to have a Bluetooth electric smoker take a look at the Masterbuilt electric smoker post because there are more versions of it.

Best Smart Smoker – Char-Broil Smart Smoker
Another Char-Broil smoker on this list is a great Smart Smoker that has a special SmartChef technology. The best way to use that is to download their app on your smartphone (Apple or Android) and connect it to your smoker. On that app, you can find guides and great recipes made for this particular smoker. As you can see from the picture this smart smoker is not a rectangle and it has a special feature  – heating element incorporated in the walls. If you want to see what else this smoker has to offer, visit my Char-Broil electric smoker post.

Best Commercial Smoker – Cookshack SM160 Electric Smoker
Cookshack is the best brand for commercial electric smokers and this smoker is the best in the brand because it is made of good quality materials, durable and perfect for restaurants. It has 1620 square inches of cooking space and 5 cooking grills which is enough for about 20 chickens to smoke. This commercial smoker has IQ5 electronic time and a temperature gauge which means you can easily leave it unattended even during the night. So, if you are looking for a commercial electric smoker I suggest you read the full Cookshack electric smoker review.

Best Cheap Smoker – Landmann Smoky Mountain 26" Analog
Analog electric smokers are the cheapest because they don't have that many features in their offer, but trust me, they can really smoke their meat. This cheap electric smoker has 443 square inches of cooking space and uses 1500-watt heating element, which is more than enough for every type of food to smoke. The price of this smoker is low which makes it very affordable and the fact that it can smoke meat makes it a best-buy. So, if you are looking for a cheap or best-buy electric smoker, read this Smoky Mountain electric smoker review.

Best Water Smoker – Meco Stainless Steel Smoker
Water smokers aren't popular so there aren't many brands that produce them and Meco is the strongest one. The 1500-watt heating element can smoke food in 351 square inches of cooking space. This Meco stainless steel smoker is a great water smoker with 5.5-quart water pan capacity. That is the most important part of the water smoker and this makes this smoker so great. But, this is not the only water smoker made by Meco so if you want to check all of them, visit Meco electric smoker post.

6 Reasons To Get An Electric Smoker
I am sure you are all wondering: Why should I get an electric smoker over a pellet smoker, gas or charcoal smoker? It is hard to answer that question because there is more than just one reason.
1. You Can Smoke All Types Of Food
The heating element is the power source so it is easy to control the desired temperature and the time of smoking by your desires. That means it is easy to prepare any type of food in an electric smoker than in charcoal or gas smoker where you can't control the temperature that easily.
2. An Electric Smoker Is Easy To Use
The easy temperature control and ability to set the time of smoking makes the electric smoker perfect for beginners. All you need for a great smoked meal in the electric smoker is a recipe. It doesn't matter if it is your first time handling the electric smoker or the first time making that type of food.
3. Smoking Foods with An Electric Smoker is Hassle-Free
Another reason why an electric smoker is a better option is that you don't have to pay attention to the fire like with the charcoal or gas smokers. Also, you don't have to think will there be enough fuel because you are using the electricity of your household for the smoker. Everything else, the temperature and the time, is set by the smoker.
4. You Don't Have To Handle Fire
There is a very small chance that you will hurt yourself when you are handling electric smoker because you aren't dealing with fire. There is no open fire with electric smokers like there is with the charcoal or gas smokers which means you can leave it unattended. Smoking in the electric smoker is more like cooking in the oven then grilling when it comes to safety.
5. The Electric Smoker Is Easy To Maintain
When you are using the electric smoker you can forget about wood and charcoal which means – no mess. You don't have to clean up the leftovers of charcoal, but an electric smoker does have a wood chip tray. So, when you are done with smoking just remove the wood chip tray and toss the leftovers of wood chips in the trash.
The inside of the smoker is also easy to maintain because most of them are made from easily cleaned materials like stainless steel. Also, all smoking racks and trays inside the smoker are removable and you can easily clean them. You can also put them in the dishwasher just make sure they are dishwasher safe.
6. The Electric Smoker Is A Good Investment
Electric smokers use electricity as the power source which makes it affordable and a great investment. You will spend less money smoking meat and more time doing other things while the meat is smoking in the smoker.
Most electric smokers don't spend that much electric energy which makes them great investment when it comes to costs. They aren't an additional expense since they use electric energy from your household. Now, that doesn't mean you won't feel that in your bills, they are just more convenient than running to the store for some charcoal or gas.
After everything you can see that you will have less work to prepare and maintain the smoker, you will have a stable temperature for smoking and it is in the cooking process you will be able to do something else without worrying about setting the house on fire or burning the meat. All that you can achieve only with electric smokers.
Things To Know Before You Buy An Electric Smoker
There is no perfect electric smoker and every person chooses their best electric smokers by their desires, wishes, and expectations. But, to be able to choose one of them you have to know more about electric smokers. Due to that I have prepared XY things you have to know before you start looking for the smoke
Here you can learn everything you need to know about an electric smoker like the most important parts, performance or the design of the smoker.
Those things I am about to show you can help you decide for one smoker in the sea of smokers on the market. They will help you figure out what you can change or what you have to look for in a smoker if you want to satisfy your needs and wishes.
1. Electric Smoker Parts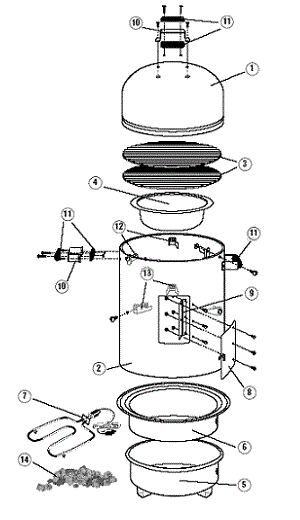 The best way to start with the smoker selection is by learning more about parts of the smoker. The electric smoker is not a complicated product and it only has few parts that are crucial for smoking.
Smoker cabinet has to be of stainless steel or it has to have a porcelain-coated steel because they are durable materials with good insulation. The doors are made from the same materials but they can have a window which is made from tempered glass to withstand the heat.
To maintain your desired temperature the smoker has to have a precise thermostat that can show you the exact temperature inside of the smoker so you can adjust the heating element to the food you are preparing.
BONUS: When you are choosing your electric smoker to make sure that the brand produces replacement parts. If something on your smoker breaks you can easily replace that part which costs 10-40$ and you don't have to buy the whole unit. That way you can see how a brand treats their customers if they care about your satisfaction and how professional they really are.
2. The Interior Of The Smoker
All electric smokers have a similar interior which consists of the heating element, wood chip, water and grease trays and smoking racks. The heating element is at the bottom, trays and pans are in the middle and the smoking racks above that. Smoking racks take most of the space in the smoker.
The interior of the smoker can have as low as 2 grates or as much as 6 grates. But, that is not the only thing that can be inside of the smoker. So, if you want to smoke sausages or other types of food like fish or vegetables, make sure that the smoker has the proper place for those. Make sure the smoker has sausage rack, grates, and pans for vegetables or fish because that will make your entire process easier.
3. The Exterior Of The Smoker
Smokers come in different designs and most of the differences aren't aesthetical, but practical. That means you won't buy an electric smoker with glass doors because it looks good, you will buy that smoker because you want to see the whole smoking process.
A smoker with glass doors is better for beginners because it shows them what is happening with the food inside. If you aren't sure if the temperature is OK or if you have to smoke if for a certain amount of time get a smoker with a glass door.
Also, you can get a smoker with wheels. That will help you transport the smoker to your patio so you don't have to carry it around. You can choose the model with 4 wheels or the model with only two wheels that are at the back of the smoker.
4. The Smoker Performance
You can pick the smoker by your skill levels. That means the design of the smoker can be adjusted to beginners, more intermediate cookers of professionals.
The best smoker for beginners are the ones with the simple design and few options and best smokers for that are analog smokers.
That may seem like the smoker has low features but it actually gives beginners an opportunity to figure out the whole smoking process. It is easier to succeed in your cooking when you don't have too many options because you don't know what you are doing.
The more complexed smoker offers you more features and those smokers are only for experienced cookers. There you can control the temperature more precisely, have more than one heating element or more than one meat probe.
If you buy that beast of the smoker (and you are a beginner) you will get lost immediately and you won't be satisfied with the final result.
There is no shame in starting small and moving your way up.
5. What Size Electric Smoker You Need
To make sure that you have picked the best smoker for you and your family, think about the size of the smoker. That mostly focuses on the capacity of each smoker. Pick a small electric smoker if you want to cook only for your family. Small smokers have the capacity to prepare a meal for 3-4 people which is enough for a family.
If you want to cook for your family and friends I would suggest that you get a medium electric smoker. Most medium smokers can prepare a meal for more than 8 people which is a great amount of family and friends.
There are bigger smokers, but those are mostly heavy-duty smokers that can prepare a meal for a group of people and most are used for catering and I believe that is not something that interests you.
6. The Best Place to Put Your Electric Smoker
Now that I have shown you what are the basic things you can expect from a smoker I want to move one step forward. I want you to picture the smoker in your home. Before you buy an electric smoker think about where will you put it. This is a smart move because you can plan in advance the amount of space you need for the smoker.
You can put it in the garage, your backyard or on the patio. Every electric smoker is made to be outside, but they have to be under the roof because they work with electricity and you can't make them wet. It is a smart move to cover them with protective smoker covers while you aren't using them to prolongate their life. Electricity and moisture don't play well.
7. How Important Is The Price Of The Smoker?
There is a price range you have to expect when you are buying an electric smoker. That price range is from $100 to higher, depending on the brand, quality, size and other requirements.
It is not hard to determine if the price of one electric smoker is too high or just right. The first thing you have to consider in that ratio is the quality of the materials used in the smoker. A good quality smoker should be stable and heavy without any plastic. Also, keep in mind that the more features the smoker has it is more expensive. You can't compare a smoker with Bluetooth with one simple smoker without features.
If you are looking for a simple, analog electric smoker then you will be satisfied with the ones that have the price around $100. But, if you want a digital electric smoker with many features, don't look at the smokers that are under $200, or even $300 depending on the number of features.
The Best Electric Smoker Manufacturers and Brands
The best electric smoker brands are setting the standards high by competing with each other who will be the best. Some of the best and most famous electric smoker brands are Masterbuilt, Char-Broil, Old Smokey, Pit Boss and Bradley Smokers.
Each of those brands produces high-quality electric smokers for a special occasion. Their task is to provide the best smoking experience for every person no matter how skilled are they in preparing food in an electric smoker.
Masterbuilt Electric Smokers
Masterbuilt is one of the biggest brands in the barbecue world. They make a whole range of products including smokers, grills and fryers.
We've done a full review of Masterbuilt electric smokers and think that they are a top manufacturer of electric smokers.
They have a wide range of electric smokers including analog smokers, digital smokers, and Bluetooth smokers. They also make them in a dizzying array of sizes and variations.
Char-Broil Electric Smokers
Char-Broil is another powerhouse brand in the barbecue world. They are also one of the oldest brands and have been around since 1948. See our full write up on Char-Broil electric smokers which review all their electric smokers.
Char-Broil is widely known for its outdoor cooking appliances like its propane and charcoal grills.  But they also have a good selection of high-quality electric smokers. Their electric smokers are affordable and come in a wide range of sizes. Not only are they durable but most of them are portable as well.
Other brands which are lower quality, can be found at lower prices. They can prepare a pretty good meal too and are a decent option, but not as good as those above.  Smokin-It, Little Chief, Smoky Mountain, and Smoke Hollow are some of these brands. They aren't the best on the market, but they have a great price-quality ratio which makes most of their models best-buy or even budget-friendly options.
Where To Buy Your Electric Smoker
Look For An Electric Smoker on Amazon First

Our preferred way to buy an electric smoker is online because there are many honest reviews on the internet made by experienced people like me. The most common online retailer for all kinds of products it Amazon and its popularity grows every day because it gives people what they need.  Below every product, there are reviews of people who bought it so you can see their honest opinion about it and that is pretty great.
Other benefits of ordering online are lower prices for most products and fast, free shipping. Every product you order will be delivered to your home in about a week. That means you don't have to think about how heavy or how big the smoker is and how complicated it would be to transport it home.
How To Buy An Electric Smoker at Walmart, Lowes or Home Depot

The most popular stores to get electric smokers from are Walmart, Lowes and Home Depot. All 3 stores offer electric smokers online and in-store. You'll likely find one of these stores near you.
While it is nice to be able to walk into a store like Home Depot to look at the electric smokers in person, the benefits stop there. There are three key disadvantages to buying an electric smoker from a store that prevents you from getting the right electric smoker at the best price.
When you buy from a big store like Lowes, you are faced with a limited selection, higher prices, and unknowledge salespeople.
These stores won't carry a wide selection of electric smokers inside their stores, which means your choices are limited. They'll also likely stock the higher-priced items to make a bigger profit. Finally, the salesperson likely won't be knowledgeable about electric smokers and will probably steer you towards the more expensive models.
The likely result of this shopping trip would be you buying an expensive electric smoker that is more than you need.
The only time I recommend buying an electric smoker from a store is when you have done your research, know exactly which model you want to buy, and found that exact model at your local store at a lower price than what you can get online. Maybe you have a coupon or your desired electric smoker is on sale. That would be how you get the job done.
How To Use An Electric Smoker
An electric smoker is simple and easy to use, but it is still good to learn some tips and tricks. Here are some tips on how to get the most out of your electric smoker:
Popular Electric Smoker Meats and Recipes
Now let's get to the best part of having an electric smoker – the food!
While there is a seemingly limitless amount of foods that you can smoke with an electric smoker, the most popular meats to smoke are briskets, ribs, pork shoulder and turkeys.
Smoked Brisket
Smoking a brisket is one of the first things you should try. Briskets are normally chewy, tough, and lacking in flavor. But when placed in a smoker with the right wood chip, it turns into one of the best cuts of meats for barbecue.
The secret is its collagen. The melting of the collagen during the smoking process seeps flavor into the rest of the meat, turning it into juicy, flavorful gelatin.
Brisket is also one of the easiest meats to smoke. It is typically smoked at a low temperature for a long period of time. Unlike other cuts of meat, the connective tissues in the brisket require a long period of time to be broken down.
In addition, the brisket requires very little prep work. Just rub in your favorite BBQ rub around the meat. Smoking a brisket will take several hours to half a day depending on how large the brisket is. Check the internal temperature to tell when it is ready.
Here's a recipe for smoked brisket.
Pork Ribs
Pork ribs have a favorable ratio of lean mean to fat, which makes them perfect for smoking. When properly smoked, you'll taste a moist, rich flavor that only a rack of smoked pork ribs can deliver.
To properly smoke pork ribs, the first step is to choose the right cut of meat. There are several different types of pork ribs. The most popular ones are spare ribs, baby back ribs and St. Louis ribs.
Second, there is some prep you must do to get the most of your ribs. First, there will most likely be a membrane on the back of the ribs that need to be removed. Sometimes the market will have already removed it but most of the time it will be up to you.
Next, you will want to season it. Find your favorite BBQ rub and generously apply it to both front and back of the ribs. From here, you can let it sit for a few hours or overnight to soak up the flavors of the rub, or immediately go into the smoking process.
Using wood chips with your ribs is also a must. Applewood and Hickory are popular woodchips to use for pork ribs.
Here's a complete recipe of smoked pork ribs.
Pork Shoulder or Pork Butt
Pork shoulder, aka pork butt is another very popular cut of meat to smoke. It typically weighs between 5 to 10 pounds and is cheaper than most other cuts of meat.
There will also be a shoulder bone, which can easily be pulled out when the meat warmed up enough. However, most people leave the bone until it's fully smoked. Keep an eye on the internal temperature to confirm when it is ready.
Pecan or Hickory wood chips go well with a pork shoulder. Here's a recipe for smoked pork shoulder.
Smoked Turkey
We've all had oven-roasted turkey but smoked turkey is a different experience entirely.
Smoked turkey results in more flavorful and tender meat, as it has been flavored with smoke and has endured a longer cooking time. Roasted turkey, on the other hand, will have crispier skin.
Smoking a turkey isn't as simple as the other meats mentioned above as it involves a number of steps. It is recommended to experiment with smoking a turkey before Thanksgiving so that you do not ruin Thanksgiving dinner.
You can use Maple or Apple woodchips to bring out the best smoky flavor.
Here's a complete recipe on smoking Turkey.
Frequently Asked Questions
1. Are electric smokers better than gas? 
Both types of smokers have their pros and cons but electric smokers are much more convenient. You can control the temperature easier, there are no combustible gasses that you need to worry about, and they can be converted into cold smokers a lot easier than gas smokers. 
2. Are electric smokers worth it? 
Like any good thing, it is going to cost you a little bit of money. But, considering the convenience and the all of the great things you can do, I'd say that they are absolutely worth it! And I'm not just talking about the price tag in general, but you get long-term value for your buck! 
3. What do you smoke in an electric smoker? 
Electric smokers are typically used to smoke a wide array of meats. You can smoke anything from chicken, to pork, to salmon. It really just depends on what kind of food you want. You can play the meat up too, with marinades or spices.
4. What is the easiest meat to smoke? 
Different folks might have different opinions on this one. It's all about finding your groove with smoking and just having fun with it. However, that being said, pork seems to be a mostly agreed upon 'easier meat' to smoke. 
5. How much is a good smoker? 
The answer to this one is rather dependent on the person buying it, as well as their smoking needs. A smoker can cost anywhere between $100 – $10,000! When it comes to a smoker, you've got to do your homework. There are all different kinds and they can do a variety of different things. Your best bet is to find the kind you want and then don't settle for the cheapest one. Find a good one, in the middle range. 
6. How much does an electric smoker cost? 
Electric smokers can range in price. It's all dependent on what you want and what you are looking for. They can run for as cheap as $150 and go up to over a grand! 
7. Do I add water to electric smoker? 
Yes, you can add water to an electric smoker to help control the temperature as well as to help the smoking process. You can also add seasonings and spices to the water as well, to give your meat a little extra flavor and pizzazz. 
8. How many watts does an electric smoker use? 
Typically, an average electric smoker will use between five hundred and fifteen hundred watts. The more high-end ones though will use between eight hundred and twelve hundred watts. It just depends on whether or not you choose to get a high-end one. 
9. What is the difference between smoker and grill? 
A grill is designed to cook very hot, very fast. A smoker can cook things at a much lower temperature and for much longer periods of time. Certain meats tend to taste better when they've been simmering for hours and hours. This slow process brings out more flavor and it cooks the meat in such a way that a grill simply can't do. 
10. Can you use an electric smoker indoors? 
It isn't something that should be recommended exactly, but if you had to, you could! Unlike regular smokers, electric ones do not give off combustible gasses. However, it can still be a very big fire hazard and the smell might stick around your home for a long time. In essence, you can, but the question is whether or not you should. 
11. Do you use wood chips in an electric smoker? 
Using wood chips is optional. You can if you want to. It adds to the smokiness of the food. It is not necessary though and you can still smoke delicious things without them. It is pretty much up to the user to decide if they want wood chips or not. 
12. Do electric smokers produce smoke? 
The actual electric smoker does not produce smoke. However, if you've put in wood chips it will give off the smoke that comes from burning the chips. Overall though, they are very easy to clean up and energy efficient. 
13. How much does it cost to run an electric smoker? 
On average, a typical electric smoker will run on about eight hundred watts every hour. At this rate, if you smoked around six hours a day, it would cost about fifty-seven cents. That is realy cheap. It really just depends on how often you smoke though and for how long you are smoking for. 
14. Are electric smokers safe? 
There is no such thing as a 100% safe smoker. Anything that reaches extreme heat can be a dangerous thing if it isn't used in the right way. Electric smokers are safer than other kinds of smokers because they are more energy efficient and don't fill the air with harmful chemicals. It can still very much be a fire hazard though! 
15. Do electric smokers produce carbon monoxide? 
On their own, no they do not. They do not give off any kind of harmful gas or substances. But if you add some kind of wood chips or wood pellets to your smoker, which you can, these things can give off some unclean fumes that might make you ill if you're not outdoors.