There are two types of large electric smokers out there, residential smokers and commercial smokers.
Residential large smokers aren't so popular because they are too big for home use.
Large electric smokers are smokers that can feed large groups of people.
If you want to feed your family and a couple of friends you don't need a large electric smoker because you won't use its entire capacity.
Even if your the host who likes to throw huge bbq bashes, you still may want to consider a smaller smoker that will still handle that type of event.
Feel free to browse amazon for the best electric smoker and you will find plenty that will suit your needs at a smaller capacity.
But, if you want to organize family gatherings or parties for a large group of people and become the next go-to the smokehouse, then you need a large electric smoker and I will show you what you need to know about that type of smokers and if they will be a good fit for you or not.
Be sure to check out all the smoker features on each before deciding what the best smoker for you is.
Such as a digital control panel, Bluetooth remote control options, viewing window, cooking area, hassle-free cleanup and cooking process, ease of use, and portability to name a few.
What Are Large Electric Smokers?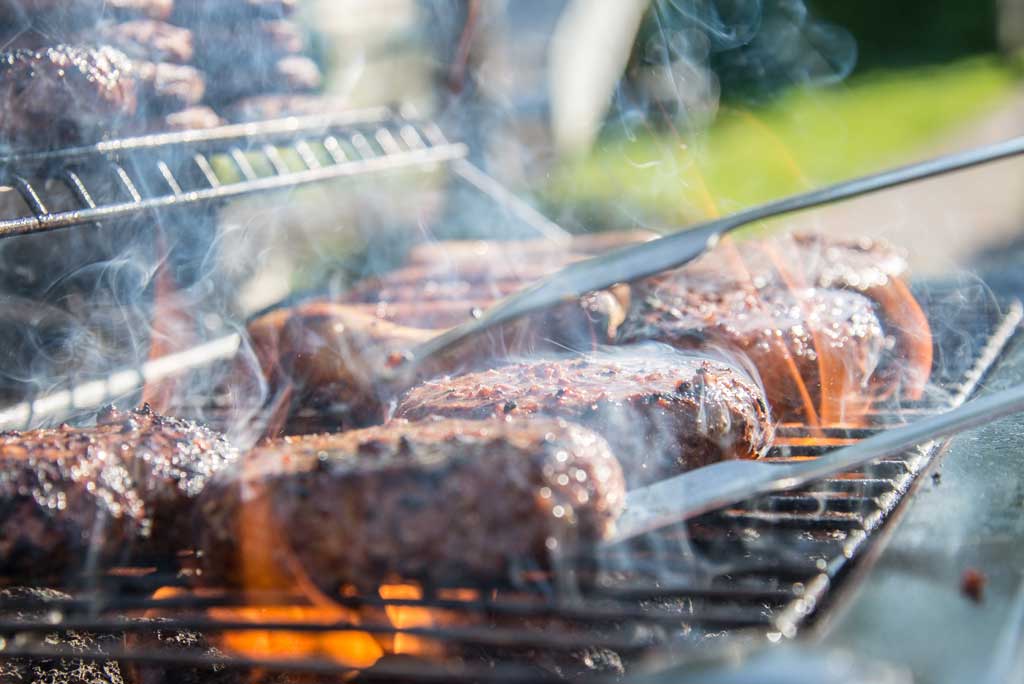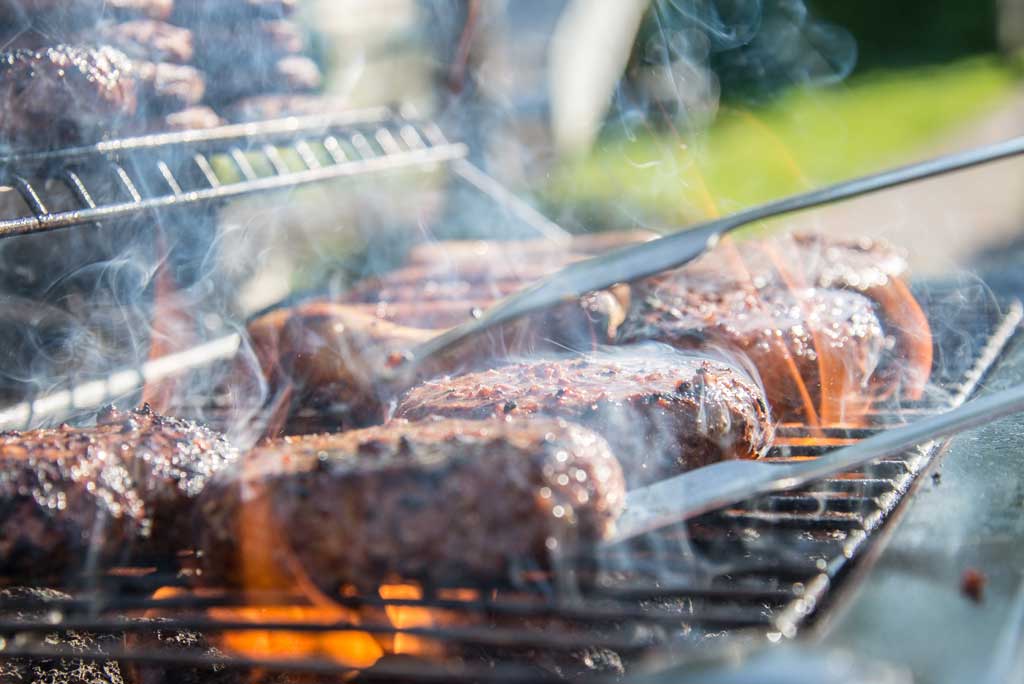 Large electric smokers are smokers that are the size of a refrigerator. Their capacity is huge and they are beasts in the electric smoker's category.
Now, that doesn't mean they are hard to handle, but it can mean that they are hard to fill up.
An average large electric smoker has a capacity of around 1500 square inches of cooking space which is double the size of an average small electric smoker, which is enough to feed your family.
By that logic, you can see that the large electric smoker can feed about 20 people at least.
That is why most large electric smokers are commercial smokers, made for restaurants and catering businesses.
They are heavy-duty smokers, which can last for a long time and are practically indestructible.
Large electric smokers you can find in any design so that shouldn't be the problem.
I would recommend you to keep an eye on the transportation of the smoker. If you need a large electric smoker make sure it has wheels because those beasts are very heavy.
If the unit you look at doesn't have wheels you will have to put it in one place without moving because it is practically impossible to move it alone.
If you are interested in getting a large electric smoker, you can check out both residential and commercial smokers because the size is the same and you can find the one you want in both categories.
But, commercial smokers are made for restaurants so keep in mind that their price is higher.
After all, they are part of professional kitchen equipment.
Best

Large Electric Smokers

Reviews

!
I want to share with you my personal best large electric smoker choices.
Yes, I have them more because each of them is great in its own category and by dividing them into categories you can easily choose which one is the best for you.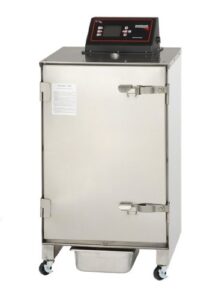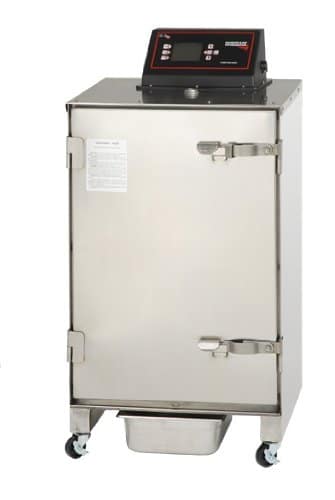 Cookshack is a brand that produces both residential and commercial smokers and today I want to share with you their large electric smoker which is right between those two types.
It is a really big smoker, it has 50 pounds capacity which is more than enough for a large group of people.
This smoker is right between the residential and commercial because it is one of the biggest residential in their offer and it is one of the strongest.
This smoker has a 1000-watt heating element, meaning the cooking temperature will smoke your food in no time.
Like I have already mentioned, it is important that large electric smokers have wheels and this one has them.
It is easy to transport this smoker from one part of the patio to the other because it has sturdy and big wheels on all 4 legs, not just back legs.
The fact that it is a combination of those two types of smokers makes this smoker interesting to both businesses and homes.
So, if you want to try a residential smoker with commercial features, this might be the one for you.
But, to be sure of that, I suggest you read the whole Cookshack electric smoker post.
PROS
One of the most spacious options on the list.
This product comes with a strong heating element.
Comes with wheels at the bottom which makes it easy to move around.
CONS
The Meat probes of this smoker are not that reliable.
As you can see if, from the name, this Char-Broil model is one of the large electric smokers on their offer.
The basic model of the Char-Broil Deluxe digital electric smoker is actually a smaller smoker with 725 square inches of cooking space and that capacity is also pretty impressive.
But, since my topic is a large electric smoker, I want to share with you the biggest Char-Broil deluxe electric smoker also known as the XL digital electric smoker.
This smoker is actually a bigger version of the basic model, which means that their main characteristics are the same.
But, what makes this smoker so interesting to us is its size. It has 1000 square inches of capacity and 4 cooking racks inside of the smoker.
That means you can feed your family, your friends, and their partners which is not a small group of people.
The deluxe large electric smoker has a window on the doors so you can see how the smoking process is going the entire time.
It is a digital electric smoker which means it has a digital-controlled thermostat so you can easily set the time and the internal temperature of the cooker on the panel right above the doors.
If this large electric smoker sounds like it could fit your needs, I suggest you read the whole Char-Broil electric smoker review because you can find more information about this particular smoker there.
PROS
The glass door allows the users to see the whole cooking process.
One of the best-insulated products on the list.
Comes with a food thermometer that can be removed.
CONS
There are no lights inside the cooking unit.
This is the biggest of all large electric smokers I will review today.
It is a commercial smoker which means it is made for restaurants and catering businesses and their smokers have to have a large capacity.
As you can see from the picture, this large electric smoker has 8 cooking racks inside while other smokers have 4 or 5 racks.
That means that this smoker can fit double the food of all other smokers I have shown you before.
Now you can see what it means to produce a commercial electric smoker.
Yes, this smoker is a beast but that doesn't mean you can't use it without complicating instruction.
It is very simple to use because it has a few commands. The design is simple and everything you can set on the smoker is located on the panel on the side of the smoker.
I like the fact that it has two big buttons which means you can easily hit those buttons when you are in a hurry.
That is much more convenient for chefs in a busy restaurant than for people who are preparing a nice family meal.
If you are looking for a commercial large electric smoker I would definitely suggest you take a look at the Hakka large electric smoker because they only produce commercial smokers.
To find out more about the brand and this large electric smoker, visit my post about Hakka electric smokers.
PROS
This smoker happens to be one of the easiest ones to operate.
One of the most spacious options on the list.
Comes with as much as 8 Cooking racks.
CONS
Portability is not at all an option with this smoker.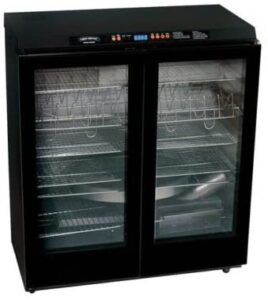 The Cajun Injector XL electric smoker is smaller than other smokers I have reviewed above, but it has one feature I really like. Inside, you can smoke absolutely everything because it has many cooking racks and hangers.
In its 5.05 cubic feet cooking space, this large electric smoker has 2 cooking racks, 2 jerky racks, and 1 rack for sausages.
I hope you understand why I have put this smoker in the large electric smoker category.
It is a great smoker for families and friends and you can smoke so many different foods inside, without buying special racks.
You can smoke so many things: brisket, jerky, and other meats which means that you can feed for days with one smoking process and that can be very convenient.
There is one more feature that makes this smoker different from others on this list.
Others are vertical large electric smokers, but this one is a different shape. It is half the height of other smokers but it is twice the width.
It comes with double doors so if you want to put it on the patio, keep in mind its width.
I like this large electric smoker because it seems more convenient for families and if you feel the same way, read the whole review of this smoker in my post about Cajun Injector electric smokers.
PROS
Features a strong heating element which allows reducing cooking times.
One of the best electric smokers on the list.
Allows the users to cook food in huge amounts.
CONS
This smoker does not seal very well.
Another beast in the large electric smoker's category comes from Masterbuilt. This XL smoker is huge and it also uses pellets and not wood chips like the rest of the large electric smokers on this list, so it is a special large electric smoker.
This XL smoker has almost 2000 square inches of cooking space which means you can feed your family, your friends, and friends of your friends in one go.
The people behind this smoker are very proud of it and they have even mentioned that you can fit 30 whole chickens inside.
So, if you weren't sure what 2000 square inches looks like, now you know.
Pellets don't act like the wood chips in the smoker which means that you have to adjust your experience if you have smoked with wood chips until now. But, the great thing about this smoker is that it has its own pellet feeder.
That means it adds pellets constantly during smoking and you don't have to do anything, but make sure that the pellet box is full.
Since the size of this smoker is huge (like other large electric smokers) it has two meat probes inside.
That way you can be sure that the temperature gauge is set the same in the entire smoker and I find that feature very convenient.
The large glass door window for viewing is a nice touch and allows for a consistent cook.
So, if you know a thing or two about Masterbuilt you know that they are a good smoking brand and their smokers are made of good quality.
If those features and capacity of XL pellet smoker suits your needs, I suggest you take a look at the full review of the Masterbuilt large electric smoker.
Because I haven't said anything here.
PROS
Included meat probe thermometers for managing the temperature of your cooking.
As the name suggests, one of the biggest options on the list.
Includes 4 Chrome-coated smoking racks.
CONS
This smoker turns off automatically if used for more than 3 hours.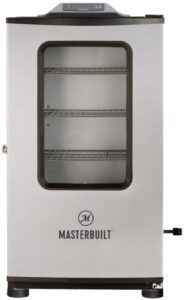 Don't underestimate this Digital electric smoker because of its size. This proves to be one of the best pieces of equipment for cooking homemade smoked meat.
Among many features of this device, it allows the user to control its temperature remotely as it comes compatible with an included Bluetooth support which allows you to control the equipment.
However, the internal max temperature clocks out at 275 Fahrenheit, which can come off rather unconvincing for people that like to eat smoked meat at high temperatures.
The usage of glass doors accounts for heat loss, which is a bad factor in itself.
Nevertheless, if you are considering this electric smoker for Bluetooth functionality alone, you may feel disappointed as the application made on phones has a buggy interface, but keeps improving day by day.
PROS
This electric smoker comes with a large amount of volume cook – This electric smoker comes with 4 racks and 975 sq inches of cooking areas. Using this area, you can cook large amounts easily.
For providing the users with ultimate connectivity, this electric smoker comes with Bluetooth connectivity allowing the user to manage the operation of the device remotely.
The design of this electric smoker includes wheels, which is the reason that this electric smoker happens to be extremely portable, unlike the other electric smokers.
The patented side wood chip loading system lets you add the wood pellets without having to open the smoker door.
The interior of the electric smoker has lights built-in which allows monitoring the food.
CONS
This electric smoker has a limited range of Bluetooth connectivity, which is why you have to be in range to control the operation. Also, lots of people have reported malfunctions in the app.
Problems with the app – Although the manufacturer is constantly working on resolving these issues, in the recent version releases of the application, there are issues such as app randomly increasing the temperature which is why connecting with bluetooth is not recommended.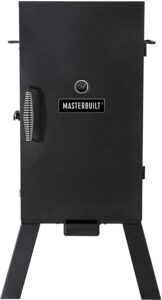 This electric smoker came to the scene rocking in the black color and comes at a very affordable price.
The interface of the device is simple which means that this electric smoker is easy to operate.
The high-quality materials used in its composition ensure long-lasting durability.
The device has a 1500 watt heating element which is a lot.
As mentioned before, the controls on this device are very good. One of the highlighting features of this device is that it allows controlling the temperature. Apart from this feature, there is a water tray included.
The chrome-plated racks ensure a long-lasting device with good service.
Although the device seems rather old as it doesn't have digital panel controls.
PROS
Budget-friendly.
The design makes it easy to use.
The simple interface makes it great for amateurs.
Made out of high quality and durable materials
Has a 1500-watt Heating Element.
The simple design makes it easier to do maintenance.
Comes with Analog Controls.
Comes with controls to monitor the temperature.
Comes with a water tray
Has handles that make it highly portable and you can use it in any space
Comes with Chrome plated racks
CONS
Not an ideal choice for cooking in huge quantities.
No digital panel controls.
No glass provided on the front panel which means the user cannot check on the food progress during the cooking.
The electric smoker has an affordable price tag. The stainless steel used in the making of this electric smoker makes it easier to clean.
The controls are easy to use on this device, which makes it easy to use for people that are relatively new to making smoked meat.
Also, the electric smoker is quite spacious which allows to quike huge quantities of meat at a time.
All in all, this is a great option for Electric smokers.
PROS
Cost-effective
The use of steel in making accounts for easy cleaning.
Easy controls make it an ideal choice for beginners.
Spacious interior accounts for the large cooking area.
A great choice for cooking on large scale.
The Electric smoker design is made in such a way that it accounts for consistent smoke.
Fully customizable and controllable digital options are given.
The set-and-forget-it option on this electric smoker is admirable.
Replacements are provided on components.
Comes with Digital System that Includes LED lights.
CONS
This electric smoker has no wheels, which reduces portability options.
The well-priced electric smoker is one of the most durable electric smokers ever made. The electric smoker is very lightweight, which enables the consumer to easily carry this electronic heater anywhere they want to.
Monitoring internal temperature allows one to use a thermometer to manage the meat's temperature.
It also comes with a window to check on the progress of the meat.
The electric smoker has good heat retention that helps it in retaining heat.
Although, some reviews have proved that people are not happy with the opening door at all as it is reported to lose heat.
PROS
This electric smoker is very cost-effective.
This electric smoker has a very well-constructed design.
A relatively lightweight and portable unit
Allows use of a meat thermometer to monitor internal temperature
Has a window for checking in on the progress of the smoke without opening the door
Multiple stainless steel racks.
This electric smoker comes with good heat insulation.
The electric smoker doesn't have much weight, which is why it gives ultimate portability options.
CONS
Many people find that the power source cord is short
This electric smoker has a lack of digital controls.
The smoke door can sometimes leak smoke as it doesn't seal well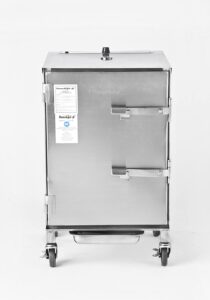 This is the correct option for anyone that is looking for a moveable heater.
The heater comes with a pretty long power cord that comes in handy and allows to move the electric smoker to the user's convenience.
The setup of this device is also very easy and only takes 15 minutes top to set up.
However, some people are not happy with the position of the thermostat as it makes the cooker stay cold from the up top.
PROS
Long Power Cord – The 12 feet lengthy cord comes in handy if you need to set the electric smoke far from the electric point.
Good mobility – Considering the size of this smoker, the wheels are located at its bottom should you need to move the electric smoker.
Easy to setup – The device is very easy to setup and takes only 15 minutes at max to assemble.
CONS
Awkward position of the thermostat – Some people have reported that the placement of the thermostat at the bottom usually renders the upper part of the electric smoker colder.
How to Choose the

Best Large Electric Smokers

? – A Buyers' Guide

: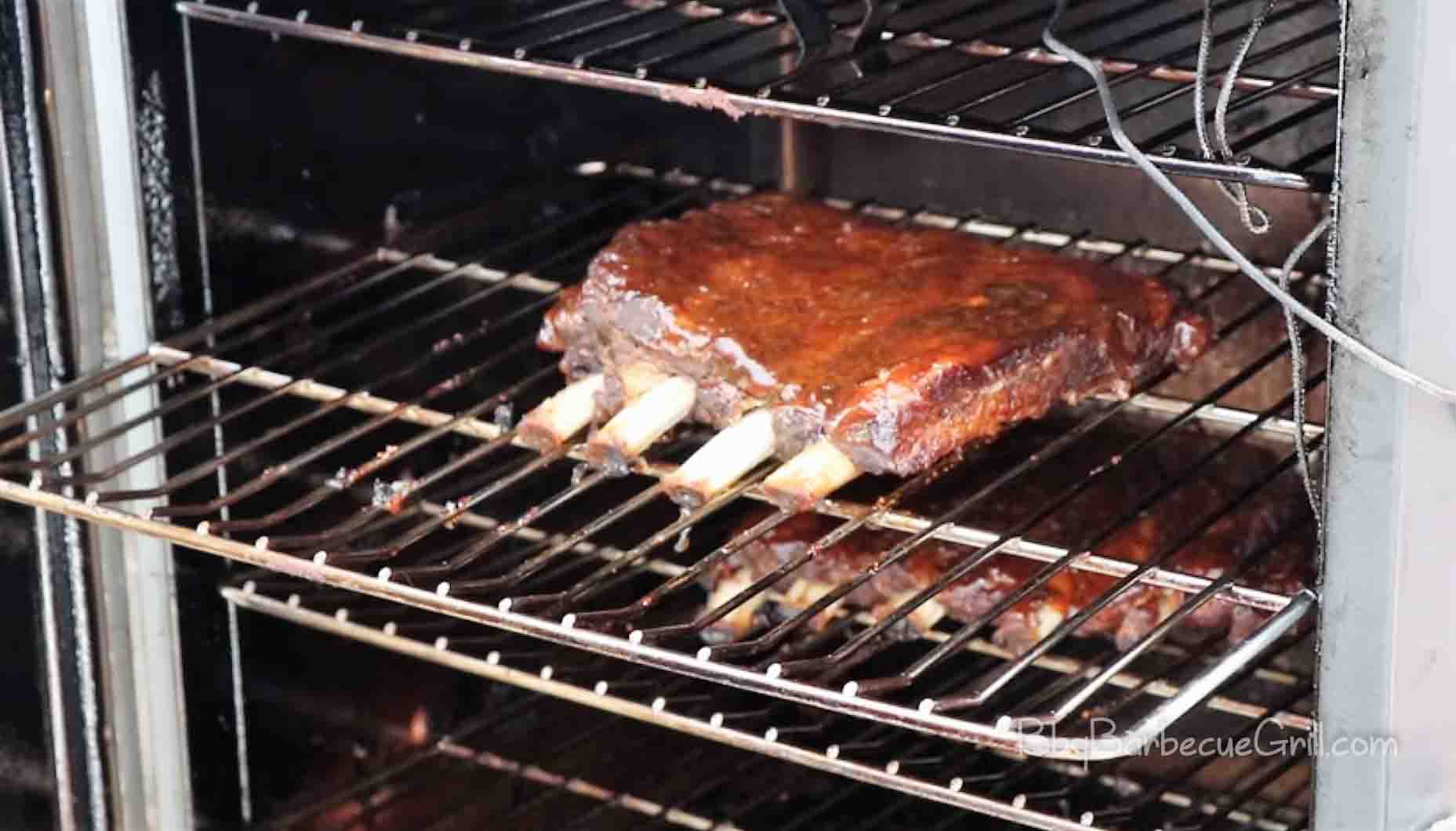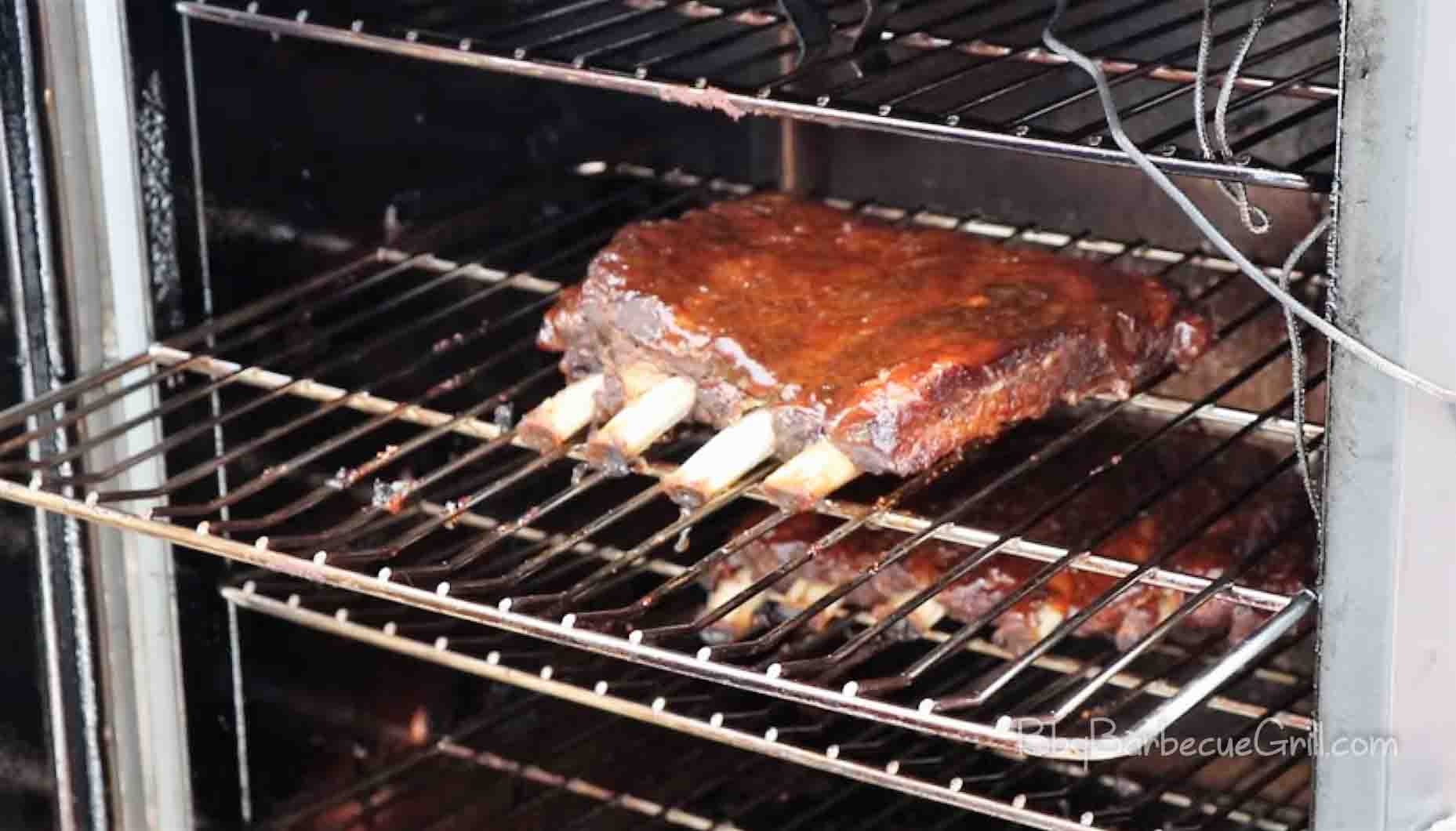 You might be wondering how to buy the biggest and extra largest electric smokers at your end, below you check out this in-depth guide.
Versatile Features:
Most importantly, you can look for a kind of electric smoker that is packed with lots of versatile features. You should buy a model that offers you with 725 square inch capacity.
It has to be easily adjustable or it should be installed with removable racks. If your smoker is composed of double-wall construction, then that is amazing.
High-end electric smokers are generally packed with removable food thermometer elements and insulated construction and you should also make an effort to buy such smokers.
The Premium version of electric smokers has a large and stainless locking latch and it is injected with integrated wheels so that you can enjoy easy and convenient mobility time.
Gives the Most Desirable Results:
You can prefer buying that electric smoker that manages to give desired cooking results to the user. It should be able to cook your food tenderly and does not give out any hassle.
Moreover, hunt for that sort of digital electric smoker that comes in the form of an ideal appliance and should be best for outdoor smoking times.
You can have the smoker that makes your grilling job simple and fast.
If you are an outdoor cooking enthusiast, then you can shop for the large electric smoker that offers you 725-square inches of cooking space!
Ideally Locks Heat and Smoke
All of the high-end models of electric smokers possess the ability to ideal lock heat and smoke at the same and single time.
If your smoker is all embedded with insulated and double-wall construction, then it can seamlessly lock heat and smoke.
Apart from that, if your chosen smoker shows the elements of hassle-free construction, then it is going to make your smoking job 10 times easier and more efficient.
Advanced Control Panel and Full-Size Glass Window:
This is another important point of this buying guide that you have to consider! It is to shop for an electric smoker that has an advanced control panel.
The presence of this control panel will make it simple for you to monitor as well as adjust the cooking heat temperature settings.
We have seen a large number of Digital Electric Vertical Smokers that are commonly featured with a full-size glass window.
They are composed of a side-locking latch to ensure and guarantee the flavor.
Easy to Clean and Warming Feature:
It is advised to have that large and biggest electric smoker that is easy to clean. Most of the electric smokers have removable grease trays.
The presence of these grease trays makes it convenient for the user to clean this electric smoker in less time.
Rest, you should find out that an electric smoker that has a warming feature present in it.
This way, you can keep your food all warm enough and completely inside the smoker until and unless it is not served.
Frequently Asked Questions:
Conclusion!
To end, these are the best electric smokers available for purchase right now.
Now, you have come to know about the best and top recommended large electric smokers.
You should consider your preferences and the tasks you need the electric smoker for.
However, the decision to make is in your hands. It is up to you which smoker you want to buy.
Furthermore, for your ease, a buyer's guide has been included to direct your focus towards the important aspects when looking for an electric smoker.
Should you find anything that brings you more questions when reading the buying guide, Feel free to contact us for further clarification.